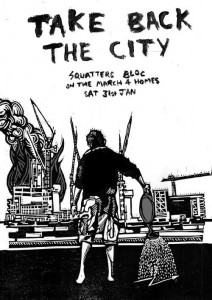 From Squatters in North and South London.
SPREAD WIDELY. JOIN US.
Whose City? Our City.
Are we going to let all of London become a playground for rich fuckers? Where every inch of space is taken for profit? A sterile zone drained of history, culture and life? Are we going to hand it to them without a fight?
Squatters and Tenants unite.
Fight ALL evictions.
Homes for all.
Take the empties.
Take back our city.
Join the SQUATTERS BLOC on the March for Homes.
UPDATE: the main squat bloc meet up will be at Elephant & Castle at 12 noon: St Mary's Churchyard, Newington Butts, SE1 6SQ. Though there will certainly also be squatters on the East London march, which starts from St Leonards Church, Shoreditch High Street, also at noon.
Come and join us. Bring whatever you need to bring and let's make this rowdy.
See here for full-size poster to print out and spread: http://rabble.org.uk/poster-for-squat-bloc-jan-31/
—
Official callout:
"On 31.01.15 people are meeting in South London and East London to march on Boris in City Hall to demand better homes for Londoners and an end to the housing crisis:
Control rents
Hands off council housing
Stop demolition of quality council homes
Affordable and secure homes for all
Cut rents not benefits
End Bedroom Tax and welfare caps
Build new council houses
Better pay & conditions, better housing services
The East London march is led by community campaigns from across the area including Focus E15. The route is from Shoreditch via Brick Lane to the Mayor's Office at City Hall.
The March for Homes is supported by hundreds of groups and individuals including Unite Housing Workers, People's Assembly (London), Defend Council Housing, DPAC, Generation Rent, St. Mungo's Broadway, Hackney Digs, Tower Hamlets Renters, the Focus E15 campaign and many more. http://marchforhomes.org/sponsors/
Please visit http://marchforhomes.org/ for updates."
Source: Rabble http://rabble.org.uk/event/march-for-homes/