Campaigners who tried to help a pensioner who was dragged out of his property in an early morning eviction have lodged a legal complaint with council bosses.
John Petch – known as Husky – lived in council-owned outbuildings in Dormanstown, Redcar, for 15 years until he was evicted on Tuesday morning.
Now campaigners supporting the pensioner have visited Redcar and Cleveland Borough Council to hand deliver a letter demanding that the 66-year-old is the legal owner as a result of squatters' rights – after they allowed him to live there rent free throughout the period.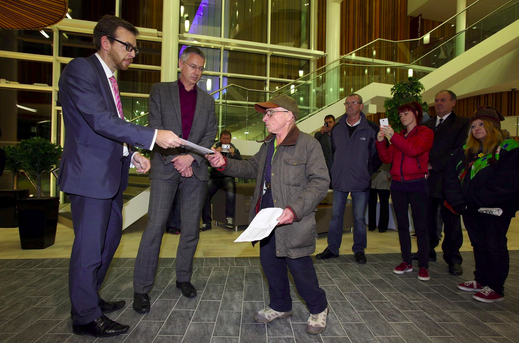 One supporter, Steve Turner, said the group has taken legal advice and is demanding that the council rethink its stance.
He said: "We have spoken to Husky's legal adviser and he is adamant that he has been illegally evicted as he should be considered the legal owner of the land as he has lived there rent free for 15 years with the council's knowledge – that means he has squatters' rights.
"We are hand delivering the letter to the council so that there is no way they can say they haven't received it. When they first forced him out of his own garden, they let him use this site rent free – and he did for years without any problem whatsoever.
"The council knew he was living on the site and as far as we are concerned Husky is the rightful owner of this land."
On Tuesday morning, just after 5am, High Court sheriffs arrived to remove him from the building, despite Mr Petch having lodged an appeal against the eviction.
One supporter was arrested by police for obstructing a High Court sheriff. About 20 police officers and 20 of Husky's supporters were at the scene.
The council leased him the buildings after they issued an enforcement order to remove his machinery from his own nearby garden several years ago following a complaint from a neighbour – but say the outbuildings are now unsafe.
High court sheriffs tried to evict Mr Petch last month but the 66-year-old had refused to let them in.
Mr Petch has been locked in legal battles with Redcar & Cleveland Borough Council over the property for several years.
He started living in the outbuildings to keep an eye on his vintage tractors and farm machinery and effectively abandoned the home he owns, on The Green nearby.
The council has defended its actions throughout the move to evict Mr Petch and council leader George Dunning said the decision had been taken as a "last resort" after years of negotiation had failed to resolve the issue.
Source – Local Rag, November 20th