After the Nazis' show of force last Sunday in Cologne, largely tolerated by the police's repression of antifascists' counter-demonstration, the Nazis and their football hooligans are planning "a revolution" on November 9 in Berlin, and attacks against Rote Flora autonomous social center in Hamburg during another demonstration on November 15. They plan similar demo in Wuppertal this weekend.
On November 9 in Berlin, Nazis plan to gather in front of the Reichstag to start "a revolution" for white Europe. They choose this date because it's the commemoration of the Kristallnacht, the pogroms against Jews in Austria and Germany on the night of 9/10 in November 1938. The terror inflicted on the Jewish population by the SA paramilitary assisted by the local population marked the beginning of the state's policy of exterminating the Jewish population of Europe.

Antifascists have called for support to stop all the nazis' marches and plan more demonstrations on November 1st in Hamburg, November 29 in Frankfurt and December 13 in Cologne in support of the Kurdish Rojava revolution and lifting the ban on PKK and against the ISIL terror. Antifascists warn that the Nazis are using ISIL terror to replicate their own terror, they are using Islamist extremism to legitimize their own.
Nazis are particularly dangerous since in February they joined hands with ultras and football hooligans, to such a degree that "football stadiums have become a heaven for Nazis".
The nazis plan to turn Rote Flora "to ashes"; the center was saved earlier this year by anarchists following a long fierce battle with the police and the state, who planned to close it down.
They also call for attacks on antifascists and leftists, and talk publicly about beheading them: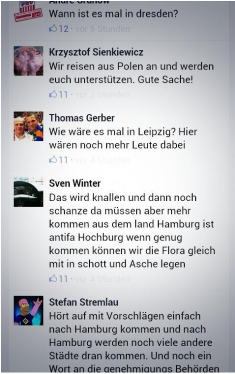 Find details on joining the antifascists, they called for large mobilization against the nazis.
Some nazis who participated in the Cologne riots have been identified, information is translated.
Source: Enough is Enough
UPDATED: Some Nazis dared to make personal threats towards an editor of Enough is Enough and Revolution News, probably in a desperate attempt to intimidate antifascists, who will trash their November marches.