Since the 1st of March and after more than two years of being empty, Vechtstraat 1 (except attic and penthouse), 5H and 7 were squatted.
The whole parcel (Amstelkade 23 t/m 27 and Vechtstraat 1 t/m 7) was bought by Alex Meijer B.V in 1987, some years later Ovast Ontwinkeling B.V (owned by Wim Oostveen) bought this company and all the real estates. This company and around 25 more are registered at the same address in Utrecht and the natural person related to them is Wim Oostveen; he is not only a speculator businessman, he also belongs to the nasty game of politics in Utrecht (Stadspartij Utrecht).
After the research we found out that this man is very good at avoiding the responsibilities attached to his enterprises, as is the case in the Vechtstraat buildings, where the city council of Amsterdam on the 23th of October 2013 ordered him to renovate all the appartements that have tenants. This was already the second Also he had problems with the city council of Utrecht ( Projectontwikkelaar Oostveen in conflict met gemeente Utrecht http://www.destadutrecht.nl/economie/nieuws/5143/projectontwikkelaar-oos… ).
It is known that he also has problems with the tenants of the buildings and other neighbors around, because he never took responsibility in order to do the maintenance of the whole building, as well as the specific problems with each renter, because he left the buildings rot (leaking of the roof, mold, problem with the access of the houses,etc.). Since 2008 he has been putting pressure on the renters in order to try to get them to move in diffrent ways. He even threatened them.
A few days after the squatting action, it became known that there is a temporary sales contract between Oostveen and a new company: Amstelvecht BV. This company is part of Sjoma BV, of which the owner is Sjoerd Willem Teunis Peereboom. Sjoma BV is a big company that ownes about seven other companies, some of which are Beleggingsgroep BV, Beleggingsgroep II BV, NL Invest BV and O.G. Cum Annexis BV.
We have reason to believe that Amstelvecht BV is founded just to buy the houses at the Amstelkade and the Vechtstraat.
Some properties of the companies of Peereboom have been squatted before, like the case of the Kinkerstraat, where some squatters suffered brutal aggression ( https://www.indymedia.nl/nl/2009/01/57162.shtml ).
We also want to reply to the articles in the Telefraaf, het Parool and AT5, and to Paul Slettenhaar who seems to have taken this case into personal account.
They all stated false facts, which leeds us to remind everyone to research your facts before you publish. For example, we are not '50 Eastern Europeans'. We do not have a problem with anyone from whichever nationality, yet we wish to be addressed well. Also, it would be very hard to house that many people in the few apartments squatted.
Also the Telegraaf stated there is asbestos in the appartments, this however is not true. Slettenhaar stated that 'squatters always make nuisance'. Espacially as the chairman of the Stadsdeel Zuid it is very bad to generalize groups of people like this. The neighbors that have given a statement all said they do not have any problems with the squatters, and that they are even happy with their new neighbors.
Slettenhaar seems to have taken this case very personal, he even states that he personally called mayor Van der Laan to have the squatters evicted as soon as possible. Why would he do this? Well, not only are the elections for the stadsdeelraad next week, he is also the brother of Wouter Slettenhaar, also a high member of the stadsdeel and a real estate broker. Wouter Slettenhaar made the news two years ago with a scandal about selling social houses to rich people ( http://speculanten.nl/2007/05/16/vvd-raadslid-oud-zuid-besmeurd/ )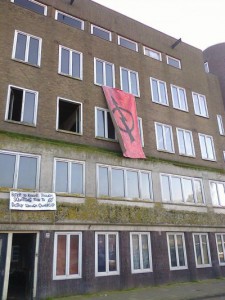 It may be clear that once again, political games are played over the backs of social renters and squatters.
For how long must Amsterdam accept this kind of shenanigans? It is clear that the city council still does not mind to look away.
Published on Indymedia: https://www.indymedia.nl/node/21861
On March 8th, a group of young people in need of living space occupied 5 abandoned flats at Amstelkade 25 which had been vacant since at least 2011. The owner of this building has continually tried to avoid much-needed renovations and is now in the process of selling the property. The result of this transaction, and name of the new potential owner are still unknown to the public. Our group is not interested in causing delays or problems with any renovations that might occur. We only wish to occupy this space until work actually begins, to trade emptiness and deterioration for conscious habitation.
Published on Indymedia: https://www.indymedia.nl/node/21725