The first known arrests over the new squatting law happened today.
Three squatters occupying a commercial property in Brighton, who were using the upstairs residential area as an un-lived in social centre, were arrested after a seven hour standoff. The two rooftop occupiers vanished into thin air!
There are also unconfirmed reports of arrests in Somerset.

Youtube clip of police manfully taking a full ten minutes to break a door (with helpful comments from the crowd):

The police turned up this morning at around 11am to raid the property on London Road in Brighton, despite no crime being committed – as the new law restricts people living in unoccupied buildings, but not visiting them. Regardless, Sussex police have now arrested three people who attached themselves with glue, spending three hours to enter through barricades to remove them.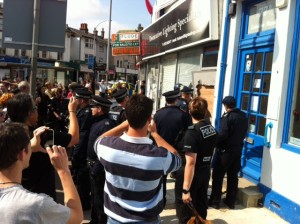 One of the visitors now on the roof of the squat said "On the roof init! Clowns got in but its gonna take them ages!" at 2pm, hours before three people were arrested inside the residential part of the building, despite not squatting the residential property.
The two roof top occupiers say they are up there to stay, as cops miserably fail to negotiate a deal with them. Support is currently gathering, but if you are free to pop down and say hello it'd be appreciated!
Inspector Bill Dickhead said: "The nature of the barricade has made their intentions to reside quite clear. We are now inside the residential area of the building that has been occupied and are seeking to resolve the situation as swiftly and as safely as possible. We are prepared to play the waiting game, but When we are able to remove them, they will be arrested under the new legislation."
UPDATE – It's all over and the rooftop peeps got away! The three arrestees have not yet been released and total solidarity to them.
https://network23.org/snob
https://twitter.com/SNOBaha