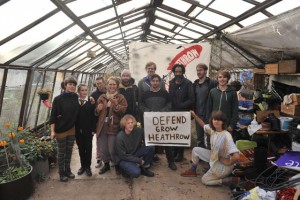 On Thursday 17th November 2011 Transition Heathrow's squatted community garden project 'Grow Heathrow' will be heading back to court. Despite no support from the local community, the local council and the local MP, the owners of the land at Grow Heathrow are going ahead with a third attempt to remove us from the site.
They trashed the land.
They were evicted by the council.
We cleared 30 tonnes of their rubbish.
We planted vegetables, fixed bikes and provided community space.
They want to evict us.
We want to stop them.
Transition Heathrow was started to support the residents and communities who had been fighting the expansion of Heathrow airport for many years. Grow Heathrow; a community market garden and social space was established on a piece of derelict land right in the heart of Sipson; one of the villages to be completely tarmacced to make way for a third runway. The land had previously been problematic for the local community and was often a site of anti-social behaviour before it was virtually abandoned. Traditional Transition Towns often have a strong emphasis on growing your own food, so we decided to incorporate that with a squatted community space where people could come together, and spend time as a community. The site is directly in the path of the proposed 3rd runway and so everyday people are there it acts as a political statement which offers a positive alternative to the power structures that build runways on peoples homes for profit.
Over the past year and a half the site has been completely transformed into a thriving community hub and market garden that provides a space for the local community to come together again and rebuild after the blight the local people suffered from. The site in Sipson plays host to a wide range of free activities for residents which are sorely needed. On a more national level the site has also played host to many political gatherings for groups such as Climate Camp, Reclaim the Fields, The Transition Network, No Tar Sands network, The Kick Nuclear campaign and many more.
The upcoming possible eviction makes no sense. We have tried negotiating to come to some agreement from the start but they will now only let us speak to their lawyers. They have no plans for the land and as it is greenbelt land they can't get planning permission to do anything. All that will happen is a return to a site where regular activities include car scrapping, car breaking and contamination of agricultural land. We will not let this happen!
What can people do to support us in the run up to court proceedings?
1.Sign the petition for court – http://www.petitiononline.com/heathrow/petition.html
2.Send a supportive testimony to info [at] transitionheathrow [dot] com or to Grow Heathrow, Vineries Close, Sipson, West Drayton, UB7 0JG (Full list of statements so far found at www.transitionheathrow.com/statements)
3.Follow us on Twitter @transheathrow. #defendGrowHrow
4.Get down to Uxbridge County Court for 9.30am on Thursday 17th November for a big show of support outside the court.
http://www.transitionheathrow.com/