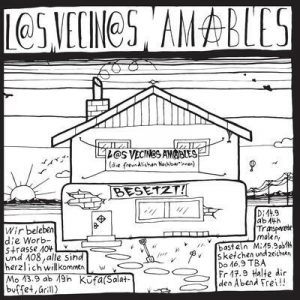 We are a creative and mixed collective. We all share the desire for free space, self-organized culture and living space. We have already contacted the municipality of Muri.
The two listed houses have unfortunately been empty for some time since the municipality of Muri stopped offering emergency housing. Now the bourgeois city of Bern is supposed to buy the houses. The city already owns many properties and only the planned small farm store would be accessible to the general public.
The two houses are part of the Schürmattsareal, which is to be developed. In the guideline plan of the development of the Schürmatt, it says: "To promote the quality of the open space" a "central meeting point and event location" should be created in addition to a "play and recreation area". We would like to contribute many ideas and possibilities to this with our occupation. For this purpose we want to create a space for discussions and new ideas.
In Muri there is already a lack of open spaces. With the urban development, the municipality wants to grow, but uncommercial space has not been thought about enough. The community should become more urban and more meeting zones should be created. However, it is not enough just to create cheap housing. Open spaces should also find their place in Muri.
We now want to revitalize and renovate the two listed buildings. At Worbstrasse 104 and 108, a place for coming together and for creative development is to be created. Self-organized places are becoming a rarity. We want to create a space where there is no need to consume, where there is room for people who are not welcome anywhere else. We want to encourage people to approach and live their dreams and not to give in to the pressure of the system, but to create an alternative for themselves and others.
Here is our program for the next days:
Mon: from 7 pm, Kitchen for All (with salad buffet, barbecue etc.)
Tue: from 2 p.m., handicraft day (painting banners, handicrafts etc.)
Wed: from 2 p.m., sketch day (drawing and creative design etc.)
Thu: to be announced
Fri: keep the evening free
greetings from the collective l@s vecin@s amables
---
Some squats in Switzerland: https://radar.squat.net/en/groups/country/CH/squated/squat
Groups (social center, collective, squat) in Switzerland: https://radar.squat.net/en/groups/country/CH
Events in Switzerland: https://radar.squat.net/en/events/country/CH
---