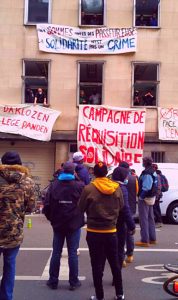 The mobilization against the threat of eviction of the Louise/Defacqz occupation seems to be bearing fruit. In a few days, more than 60 associations and 2000 citizens have signed a petition to ask the owners to reconsider their position and to allow the occupying individuals and families to stay in the shelter until the work is done. Thank you for your support!
The eviction has been suspended and the owners could start negotiating a temporary occupation agreement again. Contacts in this sense have taken place with their lawyer and with the alderman for housing of the city of Brussels. The owners have to come back to the occupants in order to, we hope, advance in the negotiations. Nothing is won yet, but things are moving in the right direction. Let's stay mobilized for the future!
In the meantime, the occupiers invite you to an open house this Saturday to meet them and discover the occupation in a friendly and warm atmosphere where young and old can meet without barriers and exchange about the realities of undocumented migrants. On the program: the opening of two exhibitions of photos of supporters of the struggles, a mini-concert, a moment of reading and writing of texts that give strength.
There will be a games corner for children and a counter with drinks and refreshments. A presentation of the project Y En A Marre!!!, of the JSP (Journal des Sans-Papiers). And the possibility of concretizing solidarities.
Louise Occupation
143 Avenue Louise
1000 Brussels, Belgium
lapoussiere [at] riseup [dot] net
https://squ.at/r/89yh
http://stopexpulsionlouise.be/
---
Some groups linked to migrants https://radar.squat.net/en/groups/topic/sans-papiers
Some squats in Brussels https://radar.squat.net/en/groups/city/bruxelles/country/BE/squated/squat
Some squats in Belgium https://radar.squat.net/en/groups/country/BE/squated/squat
Groups (social center, collective, squat) in Belgium https://radar.squat.net/en/groups/country/BE
Events in Belgium https://radar.squat.net/en/events/country/BE
---
Pas d'expulsion du 143 Avenue Louise http://stopexpulsionlouise.be/expulsion-suspendue-et-portes-ouvertes-a-loccupation-louise/