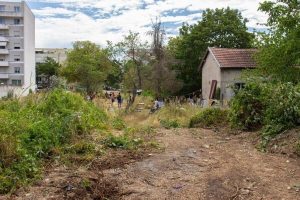 Press release from the Engrenage Gardens
Since June 17, 2020, we occupy a wasteland renamed "Les Jardins de l'Engrenage", avenue de Langres in Dijon, to prevent the real estate development of 307 housing units "Garden State", which plans the destruction of this precious natural space.
Without ever having visited the land to appreciate its soil qualities and the dynamic life created in the neighborhood, the Mayor of Dijon launched in August 2020 a legal procedure to evict the gardeners and occupants of the house located on the plot. After having pronounced in November 2020 the eviction of the gardens only (still suspended), the Dijon Court of Justice has just rules its judgment this Friday, March 19, 2021 concerning the occupied house: the judge pronounces an eviction order but grants the occupants a 6-month delay to leave the premises.
We take note of this decision: for us, each day, each week, each month gained in this fight against the destruction of nature, is a victory against adversity. Gardeners at the Engrenage, Dijon residents protecting this space, we will take advantage of the next 6 months to root ourselves even more solidly in this land that we take care of, just like the vegetables that will grow there for a new season in the collective vegetable garden and the allotment gardens.
We will also use this precious time to reinforce the presence of the Engrenage Gardens in the neighborhood and to reflect with the residents on the future of this natural space of 2 hectares that we want to save from development.
We would like to be able to carry out this reflection with the City, as we proposed to the Mayor in our open letter of March 4, 2021. We hope that this new delay imposed by the courts will allow us to engage in a dialogue with the City and the developer, on the possibility of preserving this natural space in a neighborhood already over-densified in housing, to create a real island of coolness for the hot months and years that are unfortunately coming.
Until then, we invite the people of Dijon to the Spring Festival on Sunday, March 21, between 11am and 6pm, with a mini-market, a refreshment stand and a pizza oven, with the discovery of the garden and workshops on sowing seeds and making refuges for biodiversity. Moments to be shared with the family, respecting the sanitary precautions in force (distancing, wearing a mask, etc.)
Engrenage Gardens
61-63-65 avenue de Langres
21000 Dijon, France
jardinlengrenagedijon [at] riseup [dot] net
https://squ.at/r/7wl8
---
Some squats in Dijon https://radar.squat.net/en/groups/city/dijon/squated/squat
Groups (collectives, social centres, squats) in Dijon https://radar.squat.net/en/groups/city/dijon/country/FR
Events in Dijon https://radar.squat.net/en/events/city/Dijon
Some squats in France: https://radar.squat.net/en/groups/country/FR/squated/squat
Groups (collectives, social centres, squats) in France: https://radar.squat.net/en/groups/country/FR
Events in France: https://radar.squat.net/en/events/country/FR
---