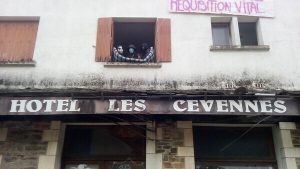 Hello!
We are the occupants of the Hotel des Cévennes in Saint-Julien-des-Points (Lozère), a hotel that has been emptied and abandoned for 15 years (bring your tools, there's work to be done!) that we want to make livable and alive.
In this context of "health emergency" where the government is tightening the authoritarian and security screw more and more, let's open breaches, possibilities and places to improve our lives.
The building is a big hotel, it could be a multifaceted project, participatory and in connection with the inhabitants of the surrounding area. Come to meet us, exchange, plan together … Any human and material help is welcome, to your ideas and commitment!
We would like a place where the difference and the choices of each person are respected. Thus, no form of oppression of gender, class, race (non-exhaustive list !!) will be tolerated within the building, take care of us !
You can meet us directly on site or via this phone number (+33) 751071122.
See you soon!
P.S : Also we would need the following equipment: PER (plumbing pipes), plumbing elements, electric cables (220 V), light bulbs, food, gas, bedding and everything that allows us to start with a squat.
---
Some squats in France: https://radar.squat.net/en/groups/country/FR/squated/squat
Groups (collectives, social centres, squats) in France: https://radar.squat.net/en/groups/country/FR
Events in France: https://radar.squat.net/en/events/country/FR
---