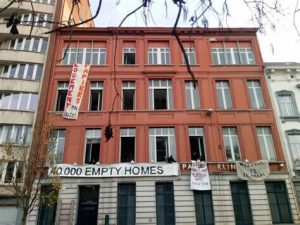 On December 18, 2020, L'Hospitalière was open! Since then, the Solidarity Requisition Campaign continues! Here the news from the different buildings.
L'Hospitalière:
A precarious occupancy agreement has been signed: 80 places of decent housing have been opened, in a building that was otherwise doomed to remain unoccupied. This occupation will also allow the collectives to organize their struggles for the regularization of undocumented migrants and for dignity!
Citydev building:
Negotiations are underway, we hope to be able to conclude a one-year agreement (at least until the end of March 2022). About 30 people are already living in the building. We are waiting for the heating to be turned on again and for the fire department to visit us so that we can complete the move of the Jette occupancy. In all, 200 people will be able to live there.
Sleeping Beauty:
A temporary occupancy agreement will normally be signed in the next few days, allowing about 50 undocumented people to occupy the premises until the beginning of the next work (at least 3 months).
Opel garage:
We had to return the premises, as work by the owner is imminent. The occupation allowed about 15 people on the street to be housed for 3 weeks (they are now installed in other buildings).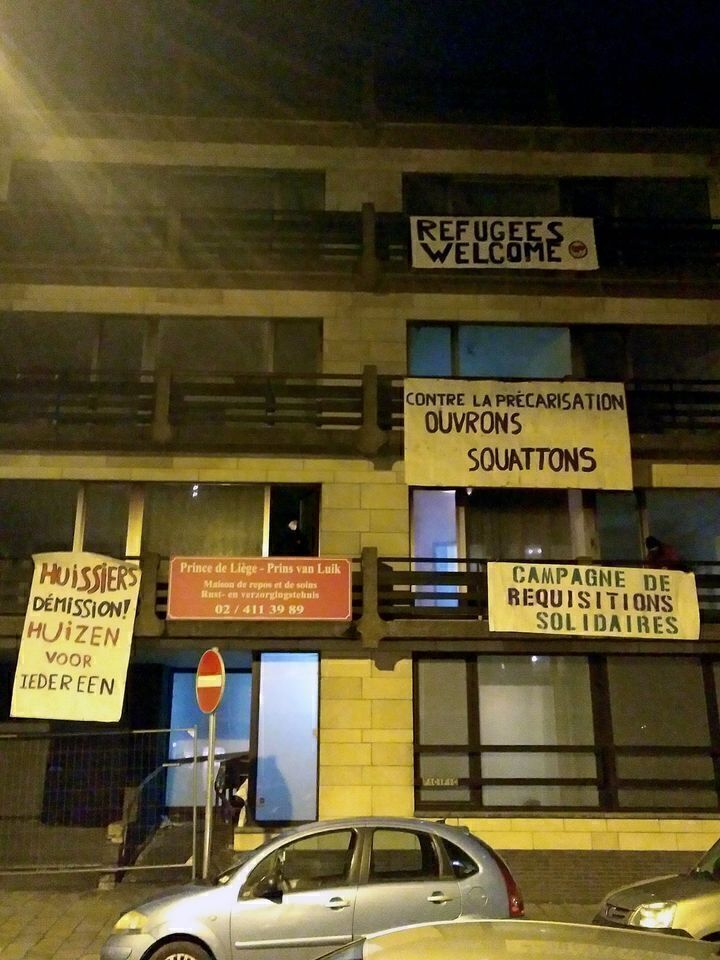 Sleeping Beauty, 26-28 rue de la Belle au Bois Dormant, Molenbeek
We will continue to act in the face of public authorities that are unable to guarantee the right to housing and that leave people on the street despite the thousands of empty buildings. We also continue to denounce the current migration policy, responsible for the precariousness of many people, undocumented and migrants in transit.
Strength and support to the Union of Undocumented Migrants for Regularization, which is currently occupying a building of the ULB and a church to demand regularization, as well as to the Union of Immigrants, which has also opened an occupation aimed at offering dignified housing to homeless people.
The Solidarity Requisition Campaign (Campagne de Réquisition Solidaire)
---
Some squats in Brussels https://radar.squat.net/en/groups/city/bruxelles/country/BE/squated/squat
Some squats in Belgium https://radar.squat.net/en/groups/country/BE/squated/squat
Groups (social center, collective, squat) in Belgium https://radar.squat.net/en/groups/country/BE
Events in Belgium https://radar.squat.net/en/events/country/BE
---