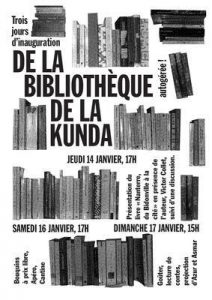 This library project is part of the more general dynamics of our place of life since February 2020. We are about fifty people from all paths of life occupying these buildings belonging to the department of Val de Marne. We are squatting to meet a need to have a roof over our heads and because we refuse to give in to the blackmail of work, rent and money. In short, we squat to find a place to live and to fight.
Since our installation, we have developed various activities that we wish to pursue as best we can despite the pandemic and continue to develop new ones. It is for these reasons that we now present our new library. This self-managed library is, in the continuity of our place, anti-capitalist and against all forms of oppression. Just like our solidarity market, the film club, the sports hall or the various workshops, it is part of a desire for autonomy against institutions, to develop our own contents in a break with a commercial logic. Thus, in this struggle, and since, just like going to the cinema, a book costs at least 10 bucks, we wish to make available for free all the books we can get. This library is thus composed only of recuperation, donations (and theft). We see it as a participatory place for meetings and exchanges and encourage as many people as possible to take advantage of it to propose various activities such as reading circles, book presentations, sales and all other things. This library wants to be as varied as possible. It includes books ranging from theater to political theory, practical guides and novels. A feminist mobile shelf, made up of the meetings without cis men taking place at our place, will also be available during the opening days of the library. A children's corner with games and stories is also present.
The library will now be open every other Sunday on the same day as the film club sessions, and the return of books will be possible either every Sunday during the solidarity market or through a box in front of our house. Loans will be for a period of one month, renewable for two weeks. We are counting on you to come and read, discuss, participate and meet us!
La Kunda
51 Boulevard de Stalingrad / 48 rue Jules Lagaisse
94400 Vitry-sur-Seine, France
kunda [at] riseup [dot] net
https://squ.at/r/804f
https://lakunda.squat.net/
---
Library, infoshop, bookshop related groups in France https://radar.squat.net/en/groups/category/book-shop-info-shop-library/country/FR
Some squats in France: https://radar.squat.net/en/groups/country/FR/squated/squat
Groups (collectives, social centres, squats) in France: https://radar.squat.net/en/groups/country/FR
Events in France: https://radar.squat.net/en/events/country/FR
---
source: La Kunda https://lakunda.squat.net/2021/01/20/presentation-de-la-bibliotheque-de-la-kunda/