Zürich. Switzerland. April 9, 2020. We (Für alle ein Zuhause – English: A home for all) have squatted four empty houses in Altstetten today to create a home and refuge for people from the virus. Like any emergency, this one hits hardest those for whom the circumstances were already difficult before.
To protect the population, the Federal Council appeals to everyone to stay at home in solidarity. While the majority in Switzerland has the privilege of being able to retreat into a house, those who cannot are left out in the cold. Some people have no papers, their rights are denied. They are illegalized, isolated and ignored. Many of these people are locked up in so-called asylum centres, prisons and camps. Their freedom and self-determination are denied to them. Again other people have "fallen through the cracks" – they do not fit into the meritocracy. Our society accepts the premature death of all these people, because protective measures do not seem to apply to them. This situation was intolerable even before Corona. Now it becomes even clearer that it cannot go on like this for one more day.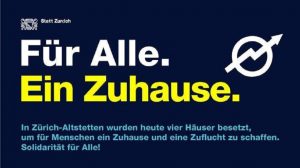 All people who have been pushed to the edge of society are now more threatened in their existence than ever before. Many Sans Papiers lose their jobs and can no longer afford to pay for their basic needs by themselves. State institutions have shut down their operations, bars and clubs where people used to take refuge from cold nights outside are closed. Because of panic-driven hoarding, the food stores' waste containers are empty. "Tischlein deck dich" [1], where precarious people could obtain a weekly food supply for a symbolic franc, closed all 132 food drop-off points to protect the mostly over 65-year-old volunteers.
With the whole 'Stay the fuck home' the idea that solidarity means standing up for each other together is lost. Solidarity includes all people and does not stop at your own garden fence, your own neighbourhood, your own environment or country. A society based on solidarity ensures that in such a situation everyone has the opportunity to protect themselves from infection and to live a self-determined life. This is obviously not the case at the moment.
People who do unpaid work and people who for various reasons cannot work under regular conditions are forgotten. Access to housing, access to state aid depends on the employment relationship and residence status. It can't be like that, that's why:
We demand:
A home for all.
The possibility for all to protect themselves.
A secure existence for all.
Immediate closure of all camps and prisons.
We propose:
Are you a property owner and your properties are empty? Open them up to those who don't have a home! Open them to those who are locked up in camps
Open hotel rooms as living space! Abolish Airbnb's
For everyone else: When large corporations and others do not want to share their real estate: squat a house. Share it with those who do not have one. Demand justice.
We oppose that people are forgotten. Against all inequality. Everyone can do something about it.
Notes
[1] Tischlein deck dich is a Swiss food aid organization based in Winterthur. It distributes food to people living in financial difficulties.
Originally published by Für alle ein Zuhause. Translated by Enough 14. Images of one of the squatted houses by @ajour_mag