In Manchester, a squatted winter shelter has been set up for the Xmas period. Organising on Facebook under the name 'Manchester Winter Shelter' the project is now on its second building having lost the first one in court on Tuesday (17th) but that's not stopping them!

The first building was the old Job centre on Clarence Road. The group stated on 15 December:
Welcome to the Manchester Winter Shelter. We have been inundated with offers of donations and help, thank you so much. We are working flat out to make sure this project is a success and we need all the help we can get, if you are able to help in any way please drop us a message and someone will get back to you as soon as possible. Peace, love & anarchy.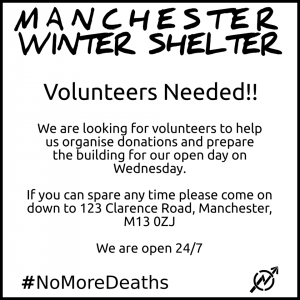 This flyer is from the first now evicted location.
Unfortunately after losing in court on 17 December, the group had to move to a new location nearby.
But the project continues! They said yesterday (18th):
SHOUT OUT!

we have a new building, the homeless shelter is still up and running, the new building is close to the old, we need anyone with a van that can spare sometime to help move mattresses & beds ect all the big stuff that we cant carry. this needs to happen before 2 as we are expecting bailiffs there is chance we could loose the stuff if its not moved asap! please contact if your available.