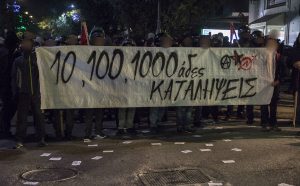 The greek government has gone into war with anarchists and anti authoritarians, following the end of a 15 days ultimatum issued by the Ministry of Public Order, towards the dozens of political and refugee squats across Greece (some of them more than 30 years old), threatening them with violent evictions by the riot police and police special forces, if they did not evacuate within the deadline. The deadline ended on Thursday night on the 5th of December 2019, a political decision by the greek State aiming to agitate and create an "explosive atmosphere".
Following the first wave of attacks and evictions, mainly against squats housing refugees during the fall, the second wave of attacks has just begun, this time against political squats and social centers. Coinciding with the arrest of antifascists and the proposed judicial acquittal of neonazi leaders in the Golden Dawn trial, the right wing greek government and its self proclaimed socialist Minister of Public Order have proceeded with the eviction of Villa Kouvelou in Marousi on tuesday 17 december, while another three squats (Matrozou 45, Panaitoliou 21 and Arvali 3) have been evicted today 18 december in Koukaki, following a massive police operation, that terrorized a whole neighborhood with police brutality, attacking people living in adjoining houses that were no squats. Brutal images of greek SWAT policemen having their boots on people's heads on the ground and a mother bound on the floor of her terrace with a hood on her head, reminiscing of Abu Ghraib torture images, have been circulated in the media.
While this info text is being written it has become known that at about 22:00 today 18 December, people attacked shops and banks near the main square of Athens at Syntagma.
---
Exarcheia: People Burn Down the Christmas Tree !!
It's ironic. While the greek government has been terrorizing the neighborhood of Exarcheia since the summer with squat evictions, attacks on people inside coffee shops and bars and brutal beatings and arrests for no reason -especially following the protests on 17 November and 6 December, where an atypical martial law was imposed in the area-, few days ago made an attempt to cover up the riot police crimes against the people in the area, by decorating Exarcheia Square with Christmas lights and a Christmas Tree…
As an obvious result at about 22:00 yesterday 18 December, approximately 200 anarchists held a sudden demo around Ermou Street, the most commercial street of Athens and proceeded to attacking several shops and banks near the main square of Athens at Syntagma. At about the same time, several miles away, the christmas tree at Exarcheia square was set on fire. While the greek government has proclaimed that more than 20 squats, just in Athens, will be violently evicted until the end of 2019, the police attacks seems like the match that will put fire in an already explosive situation during Christmas and New Year's festivities.
---
Villa Kouvelou
Dionysus, Marousi, Athens
kouvelou_squat [at] espiv [dot] net
https://squ.at/r/7lde
http://epavlikouvelou.squat.gr/
Some squats in Greece: https://radar.squat.net/en/groups/country/GR/squated/squat
Groups in Greece: https://radar.squat.net/en/groups/country/GR
Events in Greece: https://radar.squat.net/en/events/country/GR
---
https://actforfree.nostate.net/?p=35911
https://actforfree.nostate.net/?p=35908