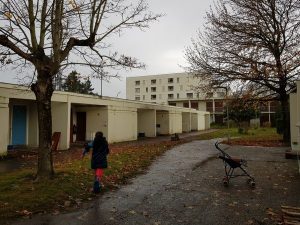 As the western French city of Bordeaux struggles to accommodate its growing migrant population, more and more squats have popped up to keep the city's legal and illegal migrants off the streets. However, since the region appointed Fabienne Buccio as its prefect, an aggressive evacuation campaign has been set in motion; with over 70 squats having been shut down in the past 6 months alone.
Like most children her age, eight-year-old Samar loves the extracurricular activities that are held on Wednesdays. "Today we painted, and we were even allowed to paint on the wall [of the squat]!," she exclaims in impeccable French before one of her mates interrupts her for a play fight. "He annoys me a lot, but what is good here is that we're allowed to disagree," Samar says and points to the little boy who goes on to pull a face and then bursts out laughing. "There's respect, but above all there's no war like in my country," she says
Samar comes from Sudan and has lived in France with her parents and four brothers and sisters for the past three years. When they first arrived, the family lived in northern France, near the city of Arras, but Samar's father couldn't find a job, so they decided to move. "We were told that there was work in Bordeaux, and so we left. Within just a week he'd found a job as a mechanic here," Samar's mother, Ikhlass explains. "After arriving, we slept in the car we bought for the first few nights. And then we set up a tent at the Bordeaux-Lac camp. We slept in the mud and lacked all sanitary facilities for two months."
Because of the difficulty of finding housing, dozens of migrants – asylum seekers and those who have already been granted refugee status – have for several weeks lived in a camp near the Bordeaux-Lac beach, north of the city. On November 18, the camp was evacuated and many migrants then made their way to the Zone Libre (Free Zone) squat, which is located in the Bordeaux suburb of Cenon.
The Zone Libre is a former home for the elderly and was opened up as a squat on November 9 by several local associations, including Médecins du Monde (Doctors of the World), RESF, Bienvenue (Welcome) and the Collectif Migrants Bordeaux (Bordeaux Migrants' Collective). Bernie, who volunteers at Bienvenue (Welcome) – the group which operates the squat – says the facility currently houses 271 people, including 158 adults and 113 children.
In the squat, each family group is allocated one small room. In all, there are 81 accommodation units, and they are all full. Single men and women have to share rooms. "There are seven of us in one room. The three youngest of my children have to sleep on the floor because there aren't beds for everyone," Ikhlass says. "We don't have a fridge either, so it's not easy to handle meals. The living conditions are far from ideal but we have a roof over our head and the people from the associations help us a lot," she says.
Locals flocking to help
Zone Libre is one of Bordeaux's most recent squats. In the past few months, the city's squats have been shut down at the same rate as they have been opened, making the Gironde administrative area one of the most squat- and slum intense places in France, trailing only Seine Saint-Denis, Loire-Atlantique and Bouches-du-Rhone.
"Since the eviction of the Alouette squat in Pessac in February, 2017, which was covered in the local media, more and more migrant aid groups are being created. It's become a real movement," Bernie, at Bienvenue, explains, adding that in the Gironde administrative area in particular, many locals have opened up their own homes to help house homeless migrants. According to Bernie, almost half of the migrants who were evacuated from the Alouette squat have found housing with locals. "It's also the first time that we've been able to sensitize hospital unions [the squat was the property of the Centre Hospitalier Universitaire de Bordeaux –Bordeaux University Hospital Center] and politicians," he says.
"The reason why the squats even exist is because there is a lack of solutions to take migrants in," says Aude Saldana-Cazenave, a regional coordinator for the NGO Médecins du Monde in Aquitaine. Between January and November, the Bordeaux arm of the NGO recorded 7,400 consultations 98% of which were consultations for migrants. "They come to us to receive care, but our role stretches well beyond that. Consultations regarding social or administrative matters are rising sharply because people are in increasingly precarious situations," she says, noting that 80% of the NGO's patients suffer mental health problems; from the traumas they suffered while still in their homelands; or whilst they were on the road to exile; as well as the daily fight for survival they are faced with on arrival in France.
"It's clear that poor housing makes people sick; by causing, for example, joint problems from having to sleep in cars. It also prevents healing, because people who are in survival mode don't spend time thinking about their health and well-being," Aude Saldana-Cazenave says. "Living constantly from day to day, as well as the administrative struggles, take a severe toll on a person's health."
"This situation has become more and more unbearable," Bernie says. "Especially considering that the city of Bordeaux has as many as 22,500 vacant accommodation places," he says, pointing to 2018 figures, published by the national statistics office, INSEE. The associations that were involved in opening up the Free Zone squat, all say that the squat is simply a response to the "state's failure" to care for homeless migrants.
More than 70 squats evacuated in six months
But the region's prefecture has deemed the squats an unacceptable housing solution, and is doing its utmost to get its message across: In the past few months, the prefecture has ramped up its evacuation campaign of squats in order to "absorb the illegal camps which do not provide dignified living conditions for occupants and cause disturbances to the neighborhood."
This aggressive evacuation campaign was set in motion in mid-April, when the region appointed Fabienne Buccio as its new prefect. Buccio, who led the giant dismantling operation of the makeshift 'Jungle' migrant camp in Calais in 2016, was tasked with applying the 'Calais model' to Bordeaux and its surrounding towns and villages. Of the 160 squats that have been identified in the Gironde administrative area, 73 are currently subject to legal proceedings, and more than 70 have been evacuated since Buccio's appointment. The prefecture argues that it is simply acting "according to a court decision" and that it carries "out a census followed by a social diagnosis prior to each evacuation." It also says that during every single evacuation, it makes sure that "each individual is offered a housing solution," provided that they have a right to accommodation of course.
The Nouvelle-Aquitaine regional prefecture, which governs the Gironde adminstrative area, told InfoMigrants that the region currently has 8,513 accommodation places for asylum seekers, or 180% more than it had three years ago. The Gironde area, meanwhile, has 2,392 accommodation places for asylum-seekers, or 120% more than it had three years ago. "This is a state effort without precedent," the prefecture says. According to local associations, no housing solutions have been offered to illegal migrants or people who have had their asylum applications rejected. According to the associations, this is a serious breach of the principle of unconditional reception.
When InfoMigrants brought the matter up with local officials, they stayed silent on the subject of illegal migrants, noting only "a progression in the number of escorts to the border" but without providing any figures.
Despite the increasingly tense climate in Nouvelle-Aquitaine, migrants continue to flock to the region, mainly because of the job opportunities that can be found there. Bordeaux also has a reputation for being both "a welcoming and open-minded city", says Momo, one of the co-founders of Collectif Migrants Bordeaux. "Everyone who comes through Spain passes through Bayonne but they don't stop there. There are cameras everywhere and the atmosphere is not the same. So they continue north and come to Bordeaux, it's easy to fall for this place!"
Momo, who comes from Ivory Coast, first arrived in France after flying to Paris. He says he then ended up in Bordeaux by chance after catching a train in a bid to get out of the French capital which he deemed "far too saturated" in terms of the administrative and social help that was available for migrants. "I love Bordeaux, I feel it's a lot easier to make a life here than in Paris. It feels like you can actually become someone here."
In the time-frame of just a few weeks, Momo had thousands of people join his group after setting up a Facebook page about it. The aim of the group is simple: to help, guide and accompany new arrivals. "I'm used to doing this. In my country I worked in the humanitarian field. But managing this on a daily basis, I realize that there are too many demands and not enough housing. So people don't have a choice; it's either the streets or the squats. The 115 [the French number for emergency accommodation] is like a five-star hotel, there's never anything available, it's always full," he says, as his phone rings incessantly.
Momo, Bernie and the other volunteers are convinced that the region's strategy to use evacuations as a deterrent isn't working. Instead, it is making the region's already very vulnerable migrant population even more invisible and excluding them from society. But authorities remain determined to continue on their chosen path: "By evacuating these squats, a clear and unambiguous message is being sent to human trafficking networks," it argues, noting that its "balanced" deterrent methods have already paid off, with the Gironde adminstrative region registering just a 4% increase in first-time asylum seekers in 2019, compared with a 28% rise in 2018.
Since January 1, the Nouvelle-Aquitaine region has registered a total of 4,082 asylum demands, up 2.7% from 2018. Most of this year's asylum seekers come from Georgia, Guinea, Nigeria and Albania.
---
Refugees related groups in France https://radar.squat.net/en/groups/country/FR/topic/sans-papiers
Some squats in France: https://radar.squat.net/en/groups/country/FR/squated/squat
Groups (collectives, social centres, squats) in France: https://radar.squat.net/en/groups/country/FR
Events in France: https://radar.squat.net/en/events/country/FR
---
Anne-Diandra Louarn, Info Migrants https://www.infomigrants.net/en/post/21478/living-from-day-to-day-in-bordeaux-s-migrant-squats