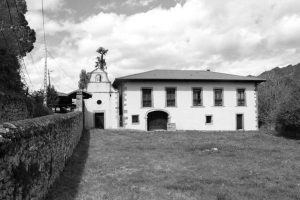 The social center El Palaciu of Ronzón, Asturias, which was squatted last April is facing threat of eviction.
The mansion which houses the social center is owned by the Fundacion de Ronzón. They are the inheritors of Spain's feudal system. They have extensive land holdings in and around Ronzón. As this includes all the houses of the families living in Ronzón, they also are the landlords to the entire local community. Charged by the conditions of the trust with developing the countryside, their only action of note has been to undermine the Palace by profiting from the unwanted, unfinished AVE high speed train. Oh, they also profited from a duck farm scam.
Our vision of the countryside is different. If they are the continuation of feudal oppression, we are the continuation of peasant resistance. The rent seeking of the Fundacion and their ilk has led to the abandonment of over 800 villages in the Asturian countryside. The bureaucrats in rural town halls dream vapid dreams of wealthy city dwellers spending their excess capital in an uninhabited, natural paradise. We live and breathe and work for a sustainable, thriving agrarian world; a world where the necessities of life, like land and housing, are held in common for the empowerment of all.
The legal system of the Spanish state enshrines the right to property ownership and has set its face against collective wealth for the common good. Fundacion Ronzón started a civil court case against the occupation soon after it began. The court has decided to reject our appeal, and has decided on eviction of the space. No more appeals or delays are possible through the court system. The Town Hall will send the police on 22 January 2020 to evict us. But in every place where there is oppression, there is the possibility of resistance. Land, housing and freedom are our inalienable rights. We will resist.
This is an open call for you to join us. We invite everyone for a week of celebration, music, art and fun, in the beautiful mountains of Asturias. Accommodation and food offered to everyone who can come. From the 18th to the 26th of January, el Palaciu is open to everyone who wishes to support the fight against the abandonment of rural spaces. Join the fight for another countryside, for autonomy, for self-sufficiency, for the future.
---
Directory of squats in the Iberian Peninsula:
Spanish State: https://radar.squat.net/en/groups/country/ES/squated/squat
Catalonia: https://radar.squat.net/en/groups/country/XC/squated/squat
Basque Country: https://radar.squat.net/en/groups/country/XE/squated/squat
Directory of groups (social centers, collectives, squats) in the Iberian Peninsula:
Spanish State: https://radar.squat.net/en/groups/country/ES
Catalonia: https://radar.squat.net/en/groups/country/XC
Basque Country: https://radar.squat.net/en/groups/country/XE
Events in the Iberian Peninsula:
Spanish State: : https://radar.squat.net/en/events/country/ES
Catalonia: https://radar.squat.net/en/events/country/XC
Basque Country: https://radar.squat.net/en/events/country/XE
---