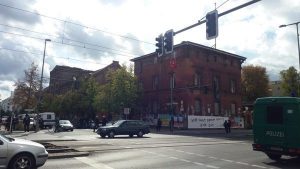 During the Tu-Mal-Wat action days, we squatted the old brewery in Lansberger Allee 54. Where old east berliner houses meet new and sterile luxury accommodations, is this beautiful building, that's already empty since seven years. Instead of having a non-hierarchical, self organized neighborhood space, until now, speculative vacancy was overtaking.
This times are over now. Whilst city council for construction, Florian Schmidt, wishes to leave 10% of this complex for non commercial usage, we wont just wait until the politicians act and take the matter into our own hands. We are not interested in the profit logic of the big companies but in a place free from ruling, where everybody is welcome who wants to participate. Weather neighbors, illegalized or societal marginalized people, initiatives and groups which are looking for rooms and also just people who are curious.
First of all, this place should be a safe space. Violence against people of color, migrants, LGBTIQ people, jewish and muslim people, homeless and other marginalized people, becomes more normal day by day, especially outside of the "scene neighborhoods". Our room, should give these people protection. It is also especially a room for everyone who wants to participate in creating it or looks for refuge, not only for "scene leftists". The top floor of the vilLA, is a room without cis-men. All other gender identities are welcomed. Machoist or pseudo-aware behavior stays outside!
By the way, in the year 2017, the complex was bought by the Patzendorfer GmbH, which belongs to the mother company Investa. Investa? Exactly, the same defender of extrusion who want to build luxury buildings in the Rummelsburger Bucht, and have similar plans for the vilLA – hotels, start up offices and expensive restaurants, a artist workshop is imaginable. We express solidarity with the squatted trailer park SabotGarden in the Rummelsburger Bucht, who was locked in with a fence, together with the communal space Widerstrand by Investa, in September.
Aside from that, we express solidarity with all emancipatory projects in Berlin and all over the world – weather it's Liebig34, Potse/Drugstore, Rigaer94, Meuterei, Syndikat, DiselA 2.0 or Exarchia in Greece.
Soli – greetings also go out to the defenders of the Hambacher Forest, who resist against the destruction of the forest by the energy giant RWE since many years. In reference to that, we build a skypod outside of the vilLA, to show, that our Hambi skills are also useful outside the forest and can make it much harder for the cops and repressive organs to evict us.
For a city from beneath instead a city of the rich!
Come by, and show your solidarity for our and the other emancipatory projects. Squat the world!
---
Groups in Berlin https://radar.squat.net/en/groups/city/berlin
Events in Berlin https://radar.squat.net/en/events/city/Berlin
Stressfaktor https://radar.squat.net/de/stressfaktor
Groups in Germany https://radar.squat.net/en/groups/country/DE
Events in Germany https://radar.squat.net/en/events/country/DE
---
Tu Mal Wat! Reclaim The City https://tumalwat.noblogs.org/
https://de.indymedia.org/node/38055