On Wednesday evening a house at the Klagesmarkt was squatted. At one point 250 people took part in the occupation. The eviction by the police took place in the early morning hours of the following day.
In a world of rising rents and a lack of affordable housing, people have decided to squat a house that has been empty for at least four years. The shop space on the ground floor of the house was to be used for social and cultural activities to enrich the neighbourhood.
A varied programme with concerts and other cultural events was planned for the duration of the occupation. On Thursday, the neighbourhood was to be invited to develop joint plans for the use of the house with coffee and cake. Unfortunately, this idea could not be put into practice, as the owners preferred to file a criminal complaint and to have the house evicted by the police during the night. The squatters offered to talk about possible usage options but the owners rejected; apparently further vacancy is desired instead.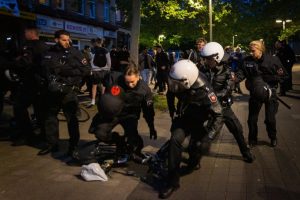 Between five and seven in the morning the building was evicted by a massive police force. An estimated 300 police women and men with reinforcements from various cities in Lower Saxony such as Celle and Lüneburg were on duty. Eight people were found in the house. They are now facing charges of trespassing.
The squatting action is taking place at a time when it is becoming increasingly clear that a supply of adequate housing cannot be guaranteed by the free market. Nationwide, demands are being made to expropriate real estate groups and convert them to non-profit organizations.
Yesterday's occupation illustrates the immediate urgency of the housing issue: we cannot wait for the state to take care of the expropriation of real estate companies. As long as people live in precarious housing conditions, tenants are expelled from their neighbourhoods and people freeze to death on the street, there is a need to act directly.
Originally published by Indymedia DE. Translated by Enough 14. Images by @R_Bengel