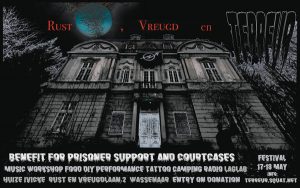 May 17th & 18th 2019, Rust Vreugd Terreur at Huize Ívicke, Rust en Vreugdlaan 2 in Wassenaar, a benefit festival in support of legal costs for WH7 Amsterdam, AC Den Haag, and K19 Zeist in corporation with ]LAG(
With legal fees and bills to pay and anniversaries to celebrate, Rust Vreugd en Terreur brings together an eclectic coagulation of visual and sonic experiences. Analogue and digital conjoin in outbursts of DIY and antifascist spirits, resonating sweet harmonics and harsh noises. Two days of performances, workshops, bands, vj's, dj's and more in the subverted pinnacle of bourgeois decadence that is Huize Ivicke. All capital accumulation will be redistributed towards the below three court cases.
Two arrestees of the Wijde Heisteeg are in threat by time in jail, fines and DNA samples. Four arrestees of the Autonomous centre in The Hague are still proceeding against fines and probation. Five arrestees of Zeist are summoned.
All arrestees of the above cases were temporarily taken into custody for squatting and are now being prosecuted. Their living spaces remain empty, or partly used by anti squat. They were evicted from places in which active autonomous subculture was thriving without any governmental support or interference. Instead of being grateful for their social function, they are put aside and criminalized
Meanwhile, the wet kraken en leegstand (squatting and vacant property act) is not being used to attempt a real fight on emptiness, which actually was a condition of this piece of trash act. Instead there seems to be a hard-lined choice for the neglecting owner. Hence the gross of the places are left empty, sad, alone and deserted, sometimes with one or two anti-squatters, renters with no renting rights and shitty privacy. Obviously, placing anti squat after an eviction means eviction for emptiness, an event of which the governance claims is not happening.
This non-corrective behavior from the law is clearly a sign of trias politicas (separation of powers) failing, the so called pillar of the democracy. The (according to many of us failing) system is vividly declining. But, not for the rich house speculants and owners, the ones to have had a huge champagne and caviar orgy when the anti squat law got accepted, a law totally undermining the positive effects that squatting has have had on the society.
Now it looks like it is being used to suppress us, local authorities are taking an active role in addressing only the side effects of emptiness and not as they should be doing, to focus the problem of emptiness itself. And whilst the housing shortage thrives prices exorbitantly high, instead the authority would rather prosecute in hope to stop autonomy and make us slaves of the system.
Let us feast on the rich in terreur. Rust, vreugd en terreur.
https://terreur.squat.net/
https://squ.at/r/72w2
---
LAG
info [at] laglab [dot] org
https://laglab.org/
https://squ.at/r/6q9y
Radio Papillon
papillon [at] adm [dot] amsterdam
https://adm.amsterdam/radio/
https://squ.at/r/63mz
Huize Ívicke
ivickeautonoom [at] riseup [dot] net
https://squ.at/r/64fv
---
Some squats in the Netherlands: https://radar.squat.net/en/groups/country/NL/squated/squat
Groups (social center, collective, squat) in the Netherlands: https://radar.squat.net/en/groups/country/NL
Events in the Netherlands: https://radar.squat.net/en/events/country/NL
---