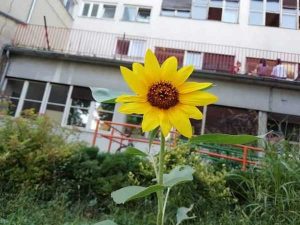 Dear everyone, a year has passed already since BEK collective opened a new squat and social center in Zagreb, Croatia. It was a year of different struggles and challenges, some things changed and some didn't, and we are still in process of learning and developing our social space. The basic ideas of a drug-free, free entrance and socially aware space are still on and will be on. Recently our old facebook page and riseup email had been hacked and a lot off misinformation sent around, so we apologize for confusion that was maybe made by that and are trying to fix it. Please note that the internet drama was made by people who are not part of the collective and heavy accusations and dramatic information in the text is all made up with purpose to discredit us, and here is everything in its ordinary function. As spring arrived, we are continuing to upgrade our gardens around the house, as well as other old projects like public kitchen, movie nights, rehearsals space and art studio, library, freeshop…
Currently we are hosting workshops like yoga, karate, self-defense, languages and others. We are inviting all people interested to participate in such project to stay with us and help with organisation of activities, renovating the space and house chores and in same time learn about organisation, technical skills connected to off-living, etc.
People who would like to stay longer time and run a language, art, craft or any other workshop or activity are specially invited, as well as people who can help with technical skills. Also, musicians and other performing artists passing by are welcome to make a show and we can offer them accommodation and food. Hope to see you soon!
BEK kolektiv
Ulica Vladimira Nazora 53
10000 Zagreb, Croatia
b3kkolektiv [at] riseup [dot] net
https://squ.at/r/69vd
https://bekkolektiv.com/
Events in Zagreb https://radar.squat.net/en/events/city/Zagreb
Groups in Zagreb https://radar.squat.net/en/groups/city/zagreb
Groups in Croatia https://radar.squat.net/en/groups/country/HR