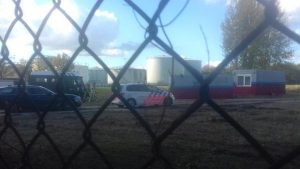 Support the Swamp, the eviction of the Swamp has started.
07.00h: workers from Borghese open the fence that separates the Swamp from the neighbors field.
10.30h: Police vans arrive to the field.
Eight cops entered the terrain and a bailiff started to walk around asking people to leave.
11.00h: the first arrest police van arrived.
11.20h: five people have been found inside of the Swamp, the bailiff hopes there's no one else in places hard to access or hiding.It won't be that easy. The Swamp will resist.
Lock ons and a monopot tower await the cops. Come to the swamp and support!
10.30: "if people are hiding is their own risk if we run over them with a bulldozer" said the bailiff. Trees start to be cut.
Bratra has been called and its on its way. So far five people have been found.
11.15: trees keep on being cut very close by to older and bigger treescreen which need a permit to be cut.
The Swamp support team calls the province to inform about the situation and put a complaint.
11.54h: the diggers keep on cutting trees at the field. Houses are being destroyed too. Smoke bombs stopped them for a moment but they keep on advancing.
12.00h: Bratra has arrived and are walking into the Swamp.
12.30h: Seven people have been found inside.
4 people have been found in a 10min highave monopot tower. All four are in lock ons. The person on the top is locked to the neck.
1 person at a tree house in a lock on.
1 person in a caravan in a lock on.
1 person on the roof of a house in a lock on.
13.20h: the bratra is starting to evict the tree house. They had trouble with their own ladder.
13.35h: they are cutting the bottom of the 10min high monopot tower where four people are locked. Everyone locked to the structure has been put in danger.
The Swamp
Gelderlantlaan, Utrecht
Netherlands
https://squ.at/r/6b2z
Squats and squatting assistances in the Netherlands: https://radar.squat.net/en/groups/country/NL/type/squat
Groups (social centres, squats, collectives) in the Netherlands: https://radar.squat.net/en/groups/country/NL
Events in the Netherlands: https://radar.squat.net/en/events/country/NL
https://www.indymedia.nl/node/44669