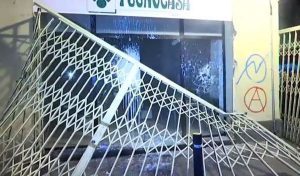 Thursday September 27, the windows of estate agency Tecnocasa in Vallekas were shattered. The agency was also covered in paint. This action aims to encourage the comrades of the CSOA La Gatonera (Carabanchel-Madrid) and Ka La Trava (Gràcia-Barcelona), as well as all the people who struggle in defence of squats as a revolutionary tool.
Neighbourhoods are being transformed by capitalist speculation, gentrification being a tightening of screws in a cyclical process that affects all the cities of the world. Real estate agencies and other capitalist entities such as banks and speculators are responsible. Let's spread the attack against them and build bridges based on solidarity and attack.
Refusing to negotiate with the State, the town hall or private property and resisting the scoundrels and the police must have an echo of solidarity in the form of seeking and spreading the struggle. This is only the beginning and we call for the reproduction of the attack, overcoming any path of mediation and negotiation with power. We do not negotiate with the State and capital.
Solidarity and attack with the squatted social centres!
War on capitalist speculation!
Some anarchists
---
Since the writing and publication of this communique, Ka La Trava has been evicted. On October 18th, the Mossos d'Esquadra evicted the place. That same evening, hundreds of people took to the streets of the Gracia neighbourhood, attacking property and everything that keeps this world going.
Attacks in solidarity with the evicted squat Ka La Trava in Barcelona:
On October 21 in Barcelona, three banks and an estate agency are attacked (windows tagged and destroyed), in the districts of Gràcia and Sants respectively. In the evening of Wednesday, October 24, one of the agencies of estate agency Tecnocasa is tagged.
---
CSOA La Gatonera
Calle Valentín Llaguno, 32 – Carabanchel
Madrid
csolagatonera [at] riseup [dot] net
https://squ.at/r/18hc
https://csolagatonera.wordpress.com/
Ca La Trava
Travessera de Gràcia 154 i 156
Barcelona
calatrava [at] riseup [dot] net
https://squ.at/r/484z
Directory of squats in the Iberian Peninsula:
Spanish State: https://radar.squat.net/en/groups/country/ES/squated/squat
Catalonia: https://radar.squat.net/en/groups/country/XC/squated/squat
Basque Country: https://radar.squat.net/en/groups/country/XE/squated/squat
Directory of groups (social centers, collectives, squats) in the Iberian Peninsula:
Spanish State: https://radar.squat.net/en/groups/country/ES
Catalonia: https://radar.squat.net/en/groups/country/XC
Basque Country: https://radar.squat.net/en/groups/country/XE
Events in the Iberian Peninsula:
Spanish State: : https://radar.squat.net/en/events/country/ES
Catalonia: https://radar.squat.net/en/events/country/XC
Basque Country: https://radar.squat.net/en/events/country/XE