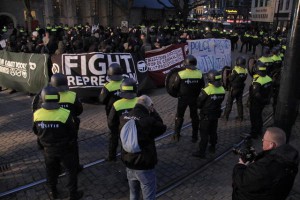 We have been informed by our lawyers that the Public Prosecution will start summoning people to court who took part in the anti-repression demonstration in November 2016 in The Hague. Some people have already receive subpoenas to attend court (on November 14th).
For the upcoming court case the lawyers Ineke van den Brûle and Juanita van Lunen will be available for the defense. If you wish to be defended and represented by them you can contact us. Because the case consists of 166 arrests of which all will likely be prosecuted we need to be sure to give the most complete and accurate information to our lawyers. The required information is:
A scan or clear picture of the subpoena
Telephone number
E-mail address
Name
Address
Social Service Number
Send the information to: fightrepression(at)riseup.net
On the 19th of November 2016 around 250 people gathered on Kerkplein in The Hague to march against the repression that has been targeting anarchists and anti-fascists in The Hague. Repressive measures like constantly prohibiting demonstrations and mapping activities and identities of anarchists and anti-fascists so to further implement repressive measures like area-bans. The anti-repression demonstration was also banned on the spot by the then The Hague mayor van Aartsen and was crushed by repressive police violence.
The demonstration was immediately kettled by the riot police and was under constant CCTV and police surveillance. The police then preceded to order demonstrators to remove face-covering clothing with the excuse that "that was the agreement". Let one thing be clear, there was no agreement about this.
It was obvious that the police was searching for an excuse to make a mass-arrest, and so it was. The police kettled the demonstration and attacked its participants. While the police beat up people on the square they called through megaphones that people should remain calm; a typical de-escalation tactic by the The Hague Police. People were punched in the face, an arm was dislocated and certain people left in need of medical attention. Headlocks were also used during the arrests and the few people who left the demonstration when the police ordered them also received some punches outside the kettle. In the end 166 people were arrested.
The demonstration was faced with the exact situation it condemned: systematically banning and limiting demonstrations, criminalising, attacking and arresting of anarchists and antifascists.
Fight Repression Demo: https://fightrepressiondemo.noblogs.org/
https://fightrepressiondemo.noblogs.org/post/2018/09/23/prosecutions-for-anti-repression-demonstrators/