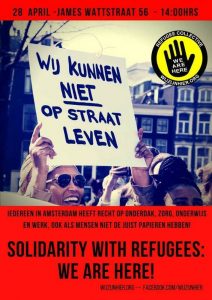 Saturday April 28th 2018, Demonstration Solidarity with Refugees, We Are Here!
Meeting point 14:00 at Krugerplein (not at James Wattstraat 58)
16:00 arrival at Jonas Daniël Meijerplein.
We Are Here, the refugee collective based in Amsterdam, has been campaigning for years against the inhuman Dutch asylum policy. The refugee asylum policy is not conclusive, which leads to the denial of basic rights of refugees in the Netherlands. Many of them are unable to return to their home country, leaving them in limbo and without a proper roof over their heads or the care they need.
We Are Here is squatting to show the inhumane situation in which they live and to ask for attention for the situation of refugees whose asylum requests have been denied but who can't be deported. Time and time again We Are Here is being evicted, putting them out on the streets and back into uncertainty again, without any prospect of permanent shelter.
These refugees are not the only people in Amsterdam looking for shelter: there is a crucial situation where many Amsterdam based or born people are unable to find a place to live. Social housing, which is the only affordable option for low to middle income people, is being torn apart as real estate is sold to parties eager to capitalize on gentrification. Meanwhile, the waiting list for houses continues to grow for those who have been in need of housing for a long time.
Neighborhoods collapse and are demolished, only to be replaced by high-rise buildings with expensive housing units that often are only accessible for higher-middle and upper class incomes. Due to deliberate choices from, mostly national political figures, Amsterdam is losing its unique character as it turns into a city for the rich.
The same right-wing parties who are responsible for these destructive policies have quickly turned to use refugees as a scapegoat, hoping to deflect and obscure as they shrug off any and all blame. While racist and repressive rhetoric is on the rise in both politics and society, a climate has been created where fascist groups started openly intimidating refugees.
That's why we take to the streets on Saturday 28 April, we are showing our solidarity with We Are Here. The gentrification of our beloved city of Amsterdam, but particularly the hatred towards refugees must be stopped. Everyone in Amsterdam is entitled to housing, health care, education and work, even if people do not have the right documentation!
We Are Here
http://wijzijnhier.org/
Indymedia https://www.indymedia.nl/node/43315