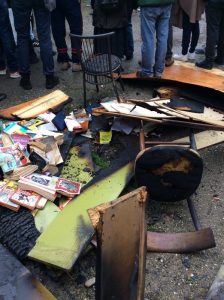 Immediate mobilization, tomorrow city demonstration.
This night some rats entered the CSA Magazzino 47 social center after they broke a window. They have set a fire in the room of the bookshop and the wine shop. The broken window with obvious signs of forced entry and the intense smell of gasoline give no doubt about the suspect nature of the act, as immediately reported by the firefighters themselves.
The fast reaction of a comrade who was inside the social space meant that the firemen could intervene promptly and extinguishing the flames before they could provoke much worse damage. Several furniture and a large amount of books have been destroyed. Our brother, the only person present, fortunately is fine.
We can say with certainty that it was the umpteenth infamous attack of fascists and racists who try to sow a climate of racial hatred and intolerance in the city.
The same that in recent weeks have hit the "occupied houses" of via Gatti and the Sinti field in via Orzinuovi in Brescia city. They are the same ones that praise Luca Traini, author of the Macerata racist attack.
For this we will react accordingly. With anger, determination and pride.
We are already declaring a state of permanent anti-fascist mobilization in the city.
Tomorrow mass mobilisation at CSA Magazzino47, via Industriale 10, Brescia, Italy.
Enough is Enough: https://enoughisenough14.org/2018/02/23/brescia-italy-serious-fascist-incendiary-attack-at-the-csa-magazzino-47-social-center/