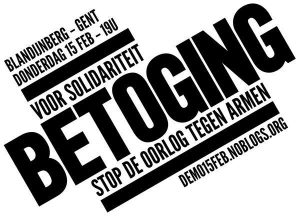 Call to demonstrate against the anti squat law, against the war of the poor – Thursday 15 February 2018 – 19:00 – BLANDIJNBERG – GENT
On 3rd November 2017, a squat on Stapelplein in Gent was attacked. A family with young kids was living in a house, not to have to sleep in the park as they did before. A group assaulted them with sticks and fireworks. This was an act of racially motivated hatred against Roma. This hatred is fueled by a media campaign, spreading a lie from the owner. The house was left empty, and later nobody was living there.
On 26th November, a racist demonstration walked through Gent. In their own words, the mob took the streets "against injustice", "against politics". Slogans anti Roma were screamed during hours. In the prostitution district, sex workers were insulted. Homeless people at the Baudelopark shelter were also intimidated. This orgy of racism, misogyny, hatred towards the poor went on without meeting any resistance. Het Laatste Nieuws only titled a "demonstration against injustice" on their website.
We are angry. Not only because of the attack and racist demonstrations but also against politicians, from the right to the left, who are contributing for years to various campaigns bashing Roma, the squatter and the poor, while their own policies led to housing shortage, rent increase. Termont, Gent's mayor, has even exaggerated one incident to push a squat ban and is for years full on against the Roma community in the city. We are also angry to the media spreading made up stories, worsening even more the situation.
We are taking the streets. Because we are fed up to see all the time the same people in need suffering, Roma, squatters, homeless and undocumented people. Those who can't afford to pay a rent and are squatting empty buildings to avoid sleeping in the street deserve our solidarity. Like them, we don't want to wait and watch what comes up.
Let's make ourselves heard: it's time to hit back to the top, not to the bottom.
Thursday 15 February 2018 – 19:00 – BLANDIJNBERG – GENT
https://demo15feb.noblogs.org/
https://radar.squat.net/en/event/gent/demo15feb/2018-02-15/call-demonstrate-against-anti-squat-law-against-war-poor
February 23rd – 24th- 25th 2018, Gent, Action weekend against the squatting ban.
During the summer of 2017, a new law was passed in Belgium to make squatting illegal. Squatting is still possible but with this new law, it makes it easier for an owner to get a house evicted, since squatting is now seen as an offense. These past years, squatting was in a twilight zone, between legal and illegal, but with this new law, squatters might face jail sentence if taken to court.
After years talking about an anti squat law, it went quick. Roma families would have occupied houses already inhabited. Frauds with living addresses would occurred from time to time but because of the whole fuzz in the media, the new law quickly set property rights above inhabitant rights. The climax was reached when the house occupied by the Roma family was attacked by a bunch of hooligans. Windows were smashed, fireworks was thrown inside and children left traumatized. When one of the hooligans got arrested and put in custody for the attack, 250 hooligans together with members of far right organizations such Vlaams Belang, Voorpost, made an unannounced demonstration in Gent. Two and a half hours long, they went around the city, by the homeless shelter, insulting sex workers and screaming racist slogans.
We have enough from this. It happens quite often in Gent but on Thursday 15 February 2018, we are all taking the streets! A demonstration for solidarity, against the war on the poor. Let's make ourselves heard: it's time to hit back to the top, not to the bottom. For more info about the demonstration: https://demo15feb.noblogs.org
Further, squatters are also calling for an action weekend on 23-24-25 february 2018, against the anti squat law in Belgium and because autonomous centers are under threat everywhere.
Soli greetings.
Squatters from Gent
https://radar.squat.net/en/event/gent/chiropractor/2018-02-23/action-weekend-against-squatting-ban
Chiropractor, the agenda from Gent https://radar.squat.net/en/chiropractor