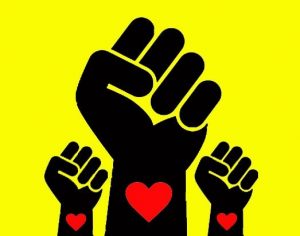 Solidarity with We Are Here. The residents of the Nienoord 2 (squatted since April 17th 2017) received the police letter announcing their evition: Friday morning 17 November 9:00, their property must be "left empty". The general meeting of Sunday November 12th has permanently decided: The inhabitants will not leave the house voluntarily. They call all sympathisers of their movement to come in great numbers to their house to support their peaceful resistance. Sympathisers, let us support them and show that we do not accept this degrading policy of deterrence. We are here and we need each other to fight the system that oppresses us all.
De Diemen group of We Are Here
Adam tel.: 0685031178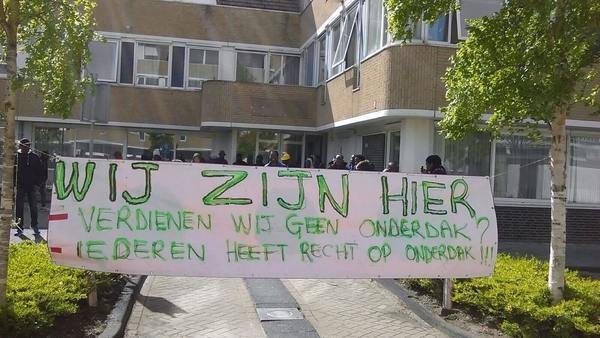 Background info
We are a group of undocumented refugees and part of We Are Here.
Since 5 years we are fighting for "a normal life", equal to all other people living here. We fled from areas where war prevails, or hunger, or extreme poverty, or where we have been politically prosecuted – conditions caused partly by European, also Dutch (post)colonial interference; our asylum applications have been rejected or remain endlessly pending; some of us have received a residence permit, often after four, five or more repeated asylum requests, without us being able to understand why the one does get them and the other does not (arbitrariness!). And even if some of us want to go back, they often cannot, because the country of origin does not allow them. Thus, we continue to live between hope for the paper that opens the gate to a "normal life", and fear of being arrested, put in detention or getting deported.
Because we have no "right" for shelter, after many perigrinations along more than 27 squats, in April we squatted a vacant building from the Nienoord 2-5 complex in Diemen, owned by Arq, a dome organization focused on the health of traumatized refugees. Although both Arq and the municipality of Diemen were so far favorably disposed towards our situation, now Arq wants to evict us! While at the same time several members of We Are Here are clients of Equator, part of Arq, where they participate in the trauma treatment program, or have sought help from the Immo Foundation an orgaisation on the same site, that investigates torture and inhumane practices and is defendung human rights. We cannot understand that! The worst is that, as has happened many times before, they want to chase us away now, when the cold season starts! The mayor of Amsterdam once said that in his city no one should sleep in the street, referring to the so-called Bed-Bad-Bread scheme, but that's a beautiful lie, since the BBB's are full, with a waiting list of 200 people!
We do not want anymore pseudo-solutions, we want accommodation! Therefore, when they will come to evict us, we will not leave voluntarily! We stay! We have no other place to go. After 27 evictions we now want to confront the citizens of Diemen and Amsterdam and surroundings with our hopeless situation, we have no other choice!
We therefore call upon all sympathizers of our movement to support us.
The Diemen Group of We Are Here
http://wijzijnhier.org/
Adam tel. 0685031178
Update – 17/11/2017 – 11:55
Eviction hasn't taken place yet, but riot cops have been spotted, the group is still calling to joint their peaceful resistance
http://wijzijnhier.org/uncategorized/steun-wij-zijn-hier-tegen-ontruiming-kraakpand/
https://www.indymedia.nl/node/42311
https://www.indymedia.nl/node/42338
https://hansfoto.wordpress.com/2017/11/18/diemen-ontruiming-wij-zijn-hier-3/