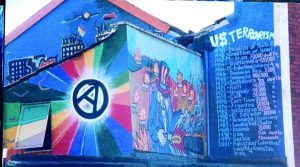 For all its small size and general impoverishment the libertarian socialist movement actually runs a surprisingly large amount of real estate around Britain, all on non-hierarchical lines, by and for the people of the cities and towns we're in. Housing co-ops, bookshops, bike collectives, archives, distros, printers and the like are all part of the collective mix. Below, Freedom News briefly rounds up some goings-on at 15 radical social centres and spaces over the last few months.
Got missed out? want to add some more detail? Drop us a line via editor at freedompress.org.uk!
Many of the above centres are members of the Radical Social Centres Network. Plans are afoot for a possible gathering at some point, stay tuned…
Source: Freedom News https://freedomnews.org.uk/the-social-centres-roundup/
Also missing in the Freedom list:
56A Infoshop, 56 Crampton Street, London SE17 3AE. The 56a Infoshop is a volunteer-run, 100% unfunded, DIY-run social centre in Walworth, South London.
The Field, 385 Queens Road London SE14 5HD. An experiment in creating a new institution of the commons for local, self-organised research, education and action.
Housmans, 5 Caledonian Road King's Cross, London N1 9DX. Not-for-profit bookshop with regular events.
And more to be found on Radar: https://radar.squat.net/en/groups/country/GB