On Friday, Project Shelter squatted an empty building next to the Bistro in Berger Straße 307 in Frankfurt-Bornheim (Germany).
The Bistro itself was squatted a year ago and turned into an active political and social place – now the owner announced that the agreement on a short-term usage ends. "We achieved a lot in the bistro, but we still need a self-organized centre. There are enough empty buildings for that in Frankfurt: We just packed our stuff and moved 30 Meters down the road to the next empty building." This building is empty for a decade now – and so the condition is really bad. "This happens all over the city: We want to use buildings, instead of letting them rot." With the opening of the house and an exhibition, in a creative way the group raises the issues of empty buildings in Frankfurt and the situation of the project. The invitation to the exhibition is at the same time an invitation for a talk between the group, the neighbors and everybody from Frankfurt who is interested. Although there are a lot of empty houses in Frankfurt, many people find it difficult to find a place to stay because of rising rents and the logics of the housing market. Especially for migrants coming to Frankfurt it is even harder, many are even forced into homelessness – that is why the group Project Shelter, consisting of migrants and other people from Frankfurt, is since more than two years fighting for a self-organized center and living space for all.
"In the last year we showed ourselves that we as a group are capable of managing a self-organized center and fill it with life", so the group. The Bistro has been an important place for Project Shelter and the neighborhood. The group has been organizing different events like workshops and discussion rounds on divers topics, providing a room for political discussions and networking and antiracist actions, offering legal counseling and Language Tandems. The place is used to organize volunteers, collect donations and in general build up a support structure for migrants. The bistro is a place for social events like bar evenings, movie nights and an open space for everybody to meet, have a cup of tea, play games and just relax and feel safe. This safety was threatened by an attack of racists, who sprayed tar paint all over the Bistro last December.
Next Step towards a self-organized centre in Frankfurt
"This shows even more how important places like that are", so the group. "that's why we are still fighting for our main goal which we have not achieved yet." That's a building big enough to establish a self-organized center there, where accommodation, counseling and political organization is possible at a place closely linked to the neighborhood. "The empty living house we now squatted ist important for us, because it can provide a place so sleep for people who would otherwise need to stay on the streets." Therefore the group already started to renovate the place. "But it will not be sufficient for a social center: We wish it to be an open house where we can do the activities that took place in our bistro, but as a constant place." Squatted and self-organized houses are under threat of eviction all over Europe – from the "Hotel City Plaza" in Athens, which is used by refugees, to the "Haus Mainusch" in Mainz or "Unsere Villa" in Kassel, which was evicted violently last Monday. "For us squats are a probable way to stress challenges and political demands which woulnd be heard otherwise."
Fighting for a city for all
In Frankfurt people are just forced to leave their houses or move to the outskirts, some are homeless or only jump from one short-term-solution to the next. Affordable living space has become increasingly scarce the last years, especially for people without or with low income or uncertain residence status. Buildings are empty for more than a decade, only to be replaced by expensive office space. At the same time there is more than one million square-meters office space unused. "We clearly see it as a responsibility of everyone living in this city, to fight for a society and city for all – regardless of the legal status, the personal history, how rich or poor someone is or how she or he came here." Since more than two years Project Shelter – together with other groups and initiatives – is fighting for that with several demonstrations and squattings. The city government has made clear several times that there is no political will to give Project Shelter a suitable building- instead they immediately evicted houses the group squatted. "The city government prefers to have empty buildings and homelessness, instead of making politics for everybody living in the city".
No job, no appartment – no appartment, no job
"To us it´s obvious, that our challenges are part of bigger struggles – racism, which some of us experience every day, the logic of the housing market and politics that are not made for everyone who lives in this city." The state imposes a vicious circle on many migrants coming to Frankfurt – in order to get a job, you need registered housing, but in order to get an apartment, you need a job. Therefore a lot of members of our Project are forced to live on the streets or in short-term solutions. A lot of people are thrown in a precarious situation, after having decided to migrate because of wars, global economic structures or border politics.
Project Shelter: an antiracist group of migrants and other people from Frankfurt
Since December 2014, Project Shelter is trying to get accommodation for homeless migrants living here in Frankfurt. Soon it turned out: The short-term solutions in for example shared flats, where a room or couch is temporarily free, are not enough. Thats why they decided to fight for a solution in a political way. Project Shelter is now a group of 80 migrants, refugees and other people form Frankfurt, who fight for a common goal: a self-organized center and a city for all.
We invite you to visit our exhibition in the squatted house – just come to our Bistro in Berger Straße 307/Spillingsgasse 47.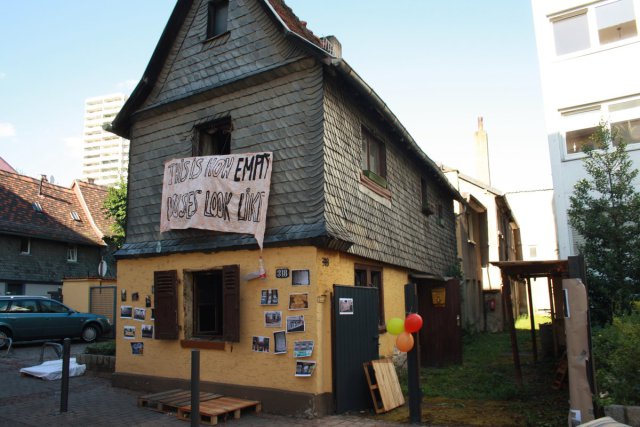 [Posted on June 25, 2017 by Enough is Enough!]