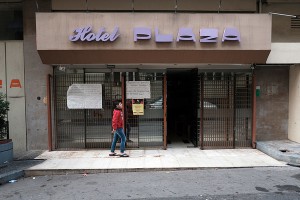 OPEN LETTER
To Ms. Aliki Papachela, owner of the City Plaza hotel
Dear Madam,
Sympathizing with your agony for the 81.500 euro bill sent to you by EYDAP (the Greek water company), we feel the need to clarify the following: on the day that we entered the hotel (22 April 2016), EYDAP technicians visited the hotel in order to read the water meter so that, given that the building was now under occupation, the owner, you, that is, would no longer have to bear the burden of the costs, which you too had also requested through an out of course dispute resolution document to EYDAP. In the immediately following period, we requested a regular connection from EYDAP, yet this was refused on the grounds that the owner of the building had to agree to it as well. The strange thing is that the EYDAP bill was calculated using household pricing, when it should in fact be calculated using professional (if not humanitarian) pricing, as was the case when the hotel was in operation, which resulted in a bill that is much higher than it would otherwise be. Therefore, while this bill poses no threat to you, EYDAP gave a «gift of propaganda» to you by issuing an extortionately high bill, which you do not have to pay (you admit as much yourself), but which you use for propaganda purposes. We imagine that, even within your value system, public health is above public order, so we hope you understand our «illegal» act, given that you are not even required to pay for it.
Moreover, we ought to remind you that, even if we weren't in the picture, it would not be possible for you to rent your hotel, because all mobile equipment has ultimately been adjudicated as belonging to the former City Plaza employees, therefore, even if riot police evict us from the building, the advocate will intervene in order to auction off this equipment (a process you have been blocking throughout the previous years, thereby illegally preventing the employees from getting the money which they are owed). Therefore, while you are correct in saying that it is not you but the company which managed the hotel which owes that money, you conceal the fact that it was you who prevented the employees from getting their money.
However, Ms. Papachela, you probably already know all of the above, given that you have excellent collaborators and allies, which is why we must come to an understanding on some other things: you argue that, by appropriating your space, we are leading you to economic collapse and desperation while we, on the contrary, are making a profit at your expense. But let us backtrack a bit.
Ms. Papachela, under no circumstances would we harm the property of anyone who makes a living out of it. But the thing is that you are very rich. And, you know, in our opinion, wealth is not a neutral individual happy condition, because it is the result of increasing poverty for many more. Because, therefore, you are very rich, your name is in the Reichenbach list of November 2013, which includes the names of 1600 people with the largest property in Greece, who had to be audited for the source of their wealth and to check their tax obedience. In no way are we suggesting that you are a tax avoider – we are not aware of the results of the audit, in any case. However, the inclusion of your name in the list fully confirms the extent of your wealth.
Through no fault of your own, of course, your father, Evgenios, as a high ranking official at the Ministry of Industry, made use of his links to well known figures in the "Nation-Saving revolution" of 21st April 1967 (the 1967-1974 junta regime), so as to undertake extremely profitable construction activities which, inevitably, also secured your own future. City Plaza is but one element of that, which was constructed during that period and which is full of construction code violations. We knew all this, and much more, Ms Papachela, before entering your hotel, however, despite the smear campaigns against us, we avoided publicizing them. Yet the buck stops here…
You also claim that we exploit the refugees living in the Accommodation Space, that we get enormous sums of funding from international NGOs, that our palms are greased, you even invented epidemics at City Plaza. Listen: we have not taken a single euro from any NGO, whether international or Greek; MEDICO only made its bank account, but not a signed euro, available in the first few months, so that the funds of the solidarity campaign could be collected; we accept in-kind donations and money from individual citizens and collectives, and we also offer goods where they are needed, particularly baby food and hygiene products; over the past year, we have managed at a cost at least thirty times lower than that of hotspots, to provide housing for over 1500 people for as long as they needed, to enrol 80 of our children to school, to provide three meals daily and all hygiene necessities (absolutely free, of course), to provide medical care and support, and, finally, we have managed to make City Plaza a hub of solidarity, self-organization and humanity; and, of course, none of the people participating in it earn money from it.
And because, Ms Papachela, you may not have fully understood how we managed let us explain in more detail: the funds required for the operation of Refugee Accommodation Space City Plaza are raised through donations by ordinary people, from support vouchers, from national and international campaigns for the Space, and to which ordinary people contribute money and goods, by artists organizing exhibitions and other activities, and by many collectives within and outside Greece which organize events to raise funds for Plaza, by other solidarity initiatives throughout the country, by student unions, trade unions, and neighborhood associations. Still, you may not understand this because, while you may know how a company works, and how it makes a profit from the work of others, you do not know how the world of solidarity works, how one supports the other, how the power of those below is organized, and how, ultimately, we can make it against all odds. Yes,
Ms Papachela, this is possible! There are people who unreservedly provide their powers, emotions, time and soul for the other. For good or bad, for us human happiness is not measured by the possibility to increase consumption and accumulate wealth, but by the growing happiness of our neighbor, and the growth of collective security and prosperity. We are sorry to make you sad, Ms Papachela, but you are not a victim of the memoranda, you are hostage to your own greed. Because at the end of the day, you are what you do…
We are even more sorry when some leftists rush to «share your pain», mumble about respect for private property, by calling us out to squat a public rather than a private owned building (as if respecting private property of any size is a matter of principle), create conspiracy theories on «who is hidden behind us» (they have, in fact conflated our website, solidarity2refugees.gr, with SolidarityNow and they link us to Soros and to the vapor trails in the blue Athenian sky), thereby making a fool of themselves by proving themselves to be pure neoliberals. At the end of the day, «you are what you do» also applies to them.
However, ms Papachela, we must admit that your are very persistent. We understand that you feel strongly that what is happening to you is unfair, yet this is very different from the sense of unfairness felt by those who truly need justice, which you have at your disposal. In any case, you file lawsuits against the Minister of Public Order and the Chief of Police for «breach of duty», because they did not send riot police to kick out 400 refugees – among whom 170 children. Are these the values of a person in the arts –like you–?? And do those "leftists" who support you also demand the riot police to «manage» the issue? Because it is not possible to solve this issue any other way, except by providing housing to trapped refugees with state responsibility, within the cities, by providing full access to health care and education, by granting asylum to those who wish to apply for it.
At the end of the day, Ms Papachela, instead of drowning in your own contradiction, by, on the one hand, liking the City Plaza squat on fb and, on the other, pressuring police to enter the building when you learned that the hotel is yours, after having your survival taken care of more than adequately, you may wish to opt for the way of modest abundance and dignity, by allowing refugees to live in your property for al long as needed, as did the former hotel employees with the mobile equipment.
With friendly regards and the assurance that we remain very close to you (allow us this familiar tone, as our fates have been intertwined),
Refugee Accommodation Space City Plaza
Athens 25 April 2017
---
Squats in Greece: https://radar.squat.net/en/groups/country/GR/squated/squat
Groups in Greece: https://radar.squat.net/en/groups/country/GR
Events in Greece: https://radar.squat.net/en/events/country/GR
---