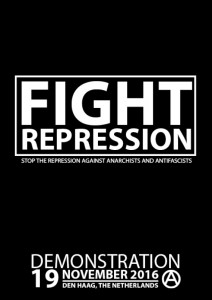 This coming Saturday the Fight Repression demonstration will take place in The Hague. The demonstration will assemble at 16:00 on the Kerkplein. The constant attacks on antifascists and anarchists from the state, on the national and international level cannot go unanswered!
Mayor criminalizes demonstration
The mayor of The Hague has been trying to prohibit the demonstration from the outset. We received a letter stating that the demonstration would not be allowed to march, and would already need to begin at 12:00. Kerkplein would also not be allowed to serve as a starting point for the demonstration and the demonstration would need to take place outside of the city center. Pages and pages were devoted to criminalizing the demonstration take in advance, and AFA's participation in the demonstration was given as a reason for prohibiting it.
We see no reason to move the location and work within the repressive parameters placed on a demonstration that is supposed to be against repression. We stood firm, and the mayor has since given in and we will be allowed to assemble at 16:00 on the Kerkplein and walk a route. The route has now been reduced by half, which will leave us with a very short demonstration. It is typical for the mayor and police to limit the freedom of movement for a demonstration against repression. Even more of a reason to come to the demonstration on Saturday and stand strong together against repression.
Place to sleep
Because more and more people from outside of the Netherlands have indicated that they are coming to the Fight Repression demonstration, there will be places to sleep available. The action-kitchen Le Sabot will also provide vegan food. If you would like to have a place to sleep, send a mail to fightrepression (at) riseup.net. Don't forget to bring a sleeping bag and mat with you.
Legal Team and lawyer
If you get arrested, then the Legal Team and a lawyer will be there for you. If you get arrested, ask for your lawyer and keep asking for her, even if the police try to tell you that this lawyer is too busy and that they can't reach her. Make no statements. You have the right to remain silent, so make use of this right! Don't sign anything, especially not a police report (strafbeschikking). Everything you say about yourself or others can be used against you and them.
Legal Team phone number: 06 43 13 69 45
Lawyer: Ineke van Den Brûle
Check here for your rights upon being arrested and more information about the Legal Team: https://fightrepressiondemo.noblogs.org/english-legal-team/
Spread the word!
Spread the call-out in the last days before the demonstration as much as possible. Besides the call-out from us, there is also a call-out from the Anti-Fascist Action…, and organize with your friends to travel together to the demonstration.
Call-out: Demonstration: Fight Repression! Stop repression against anti-fascists and anarchists!
Background article: The Area Ban against anarchists in a broader context of repression in The Hague
Fight Repression Demo: https://fightrepressiondemo.noblogs.org/
source: https://fightrepressiondemo.noblogs.org/english-update-in-fight-repression-demo/