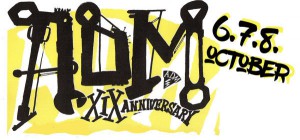 On October 6, 7 & 8 there is a unique chance to take a look inside the ADM.
This squatted community celebrates it's 19th. birthday with a multi-disciplinary-all-flavoured program, which includes dancing, safari & porcelain, circus & puppets and much, much more.
In a city where thinking within existing frameworks, economic interests and clean sidewalks dominate the public domain, the ADM is an alternative community based on solidarity, self-organization, respect, improvisation & innovation.
A place were Anti-conformists walk freely and Dreams still fly around and lay eggs. The ADM is currently under severe legal pressure, but still we present a huge program of international acts.
Not to be missed!
Here's a small example; Def P en Co (nederhop pioneers), Ryan Harvey (riot folk, USA), Alice in Wasteland (UK) , Cirk Biz'Art (FR), De Beatzers (Amsterdam' pirate ska-folk ),Twisted Fairground (UK), Hosana Soundsystem (UK), Goeiemiddag (ska), Molino (surrealistic fanfare), Zazi (comedy-theater, ADM), Tranquill (Iceland), No/sa sounds, Carlos de Nicaraqua (salsa party, NICARAGUA), Eddie Egal (Pyromancer from Berlin), De Stokers (Amsterdam' polka punk), Merlin Puppet Theatre (FR), Deadwood (FR), MetalKombo (firefish installation), Consious Youth (UK), Spanner (UK).
Robodock-Romney, Suwanne's Clit-Club and Electric Acoustic Woodstage.
Grab your chance and get on that urban-safari-ride at the ADM Reservation.
A de-gentrified exotic adventure in the oasis of the Amsterdam' west harbors.
For more information:
http://admfestival.nl/
https://adm.amsterdam/
https://radar.squat.net/en/amsterdam/adm