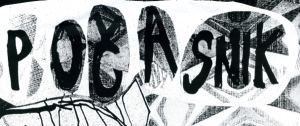 While most of us turned our brains off and connected ourselves to solar charging, the second issue of the community Inde's newspaper Počasnik was very quietly released into the world. It outed in mid-August, and you can grab your copy at the premises of The Creative Platform Inde, as well as around town … at different places – in libraries, at faculties and other educational houses, and if you ask nicely, maybe even your neighbour can lend it to you…
In it you can find a range of articles that were written by co-workers and colleagues of our newsroom. The topics discussed in Počasnik# 2 are among others: a presentation of the (Istrian) game pandolo, a biography of the life of the coastal skater community, reflection on the events from the time of the defence of the autonomous space Rog Factory, an interview with Mladen Jovičič from the Union of Crane Operators in Luka Koper, an illumination of what is hapenening with the Trieste's polluting giant Ferriera, a presentation of the practice of urban gardening, a column, which is not that, and much more …
The media platform Inde is slowly getting its shape. Contractions before the birth of the second baby were at times jerky and painful, but we heard that this is always the case. Because things that are too easy, do not settle in the heart. We hope we have weighed well the weight of our words; when we haven't, let's not forget – we are all learning.
In order to continue to be able to issue our newspaper, a benefit event presenting Počasnik#2 and a dinner will be held on Thursday, 08/09 2016 as the last one of the cycle of events called "Little Friday". We will stuff ourselves with Vegan KEBABilon, a specialty od the PandaBanda tandem (vegan mayonnaise to die for!). The Coastal legend – Total Destruction Sound will provide selected music. Solidarity contributions with which we will be able to maintain our newsroom are most welcomed. All the money collected will be devoted to the cost of printing of Počasnik.
In September you will be able to hear our first radio broadcast, created within the framework of pAnkaranska BENDIMA, with live radio broadcast of BENDIMA's selected concerts that wiil be held at Ankaran beach. Take note of the 9/17 on your calendar and come with us and enjoy the joys of Ankaran's musical harvest.
So August has passed… The start of the new season is at the doors. Our calendar of upcoming events is slowly being filled up, and as always, you'll be informed about al that's happening via our website, which will soon also be redesigned and upgraded. We are tripping with excitement!
---
Inde Plataforma
inde [dot] platforma [at] riseup [dot] net
https://squ.at/r/638
http://www.indeplatforma.org/
Some squats in Slovenia: https://radar.squat.net/en/groups/country/SI/squated/squat
Groups (social center, collective, squat) in Slovenia: https://radar.squat.net/en/groups/country/SI
Events in Slovenia: https://radar.squat.net/en/events/country/SI
---
http://www.indeplatforma.org/in-anticipation-of-the-indean-summer/