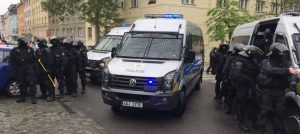 For the second time in less than a week the Czech police has invaded the autonomous social centre Klinika in Prague under the pretext of looking for explosive devices after receiving an anonymous email claiming to have planted bombs in the building.
After the first invasion on Friday 20, few activists managed to stay on the roof of the building while the police evicted everybody and handed the building to the representative of the state, the owner of the building. However, later in the evening Klinika was successfully occupied again.
Today's invasion under the same pretext of looking for a bomb has led to arrests, activists on the roof and again, to an eviction from the building, occupied in late 2014. Paradoxically, today was the day when activists gathered in front of the office responsible for managing state property to pay the fine of approx. 40 € per day for each day of occupation after the one year contract expired early this year, amounting to a total of 40000 Czech crowns (over 1500 €).
In February Klinika was the target of a neonazi attack motivated mainly by the significant role Klinika has played in collecting and delivering aid to refugees on the Balkan route (mainly in Hungary and Serbia) as well as helping collectives assisting refugees in transit through the Czech Republic.
Klinika
Jeseniova 60
Prague, Czech Republic
klinika [at] 451 [dot] cz
https://squ.at/r/3ll
https://451.cz/klinika/
Klinika event archive: https://radar.squat.net/cs/prague/klinika/archive
---
Groups in Czech Republic: https://radar.squat.net/en/groups/country/CZ
Events in Czech Republic: https://radar.squat.net/en/events/country/CZ
---
Anarchist Black Cross Dresden https://abcdd.org/en/2016/05/25/prague-repressions-against-social-center-klinika/