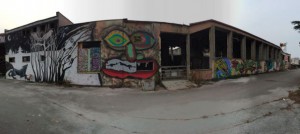 Industrial archeology
Built structures often outlive their original purpose. In addition to historical buildings such as castles, this also applies to industrial buildings. Abandoned mills, mines, factory halls and warehouses are in most cases doomed to collapse, but sometimes they get saved, refurbished and revived with new content. In Great Britain the evaluation and revitalization of industrial plants started in the fifties, because a lot of the buildings were destroyed during the war. In 1955 the British historian Michael Rix coined the term industrial archeology and the beginnings of revitalization of this architecture date back to this period. Today the Unesco's list includes a large number of buildings that belong in the category of industrial heritage as evidenced by the agreement on the importance of these historical legacies that bear witness to a time of great social and technological change. However, few qualify as monuments of national importance.
The reasons to reuse abandoned industrial sites
Abandoned industrial sites are part of most cities and those areas should certainly be regarded as city-building potential. The abandoned industrial past deserves renewal or at least an evaluation. In recent decades derelict industrial sites are becoming more and more interesting, not only because of the phenomenon of evaluation of industrial heritage, but also due to the lack of free land. Every time we are confronted with the reuse of an industrial area, a question arises: what to do with objects that are located in these locations? In case they are not protected as cultural heritage or otherwise culturally valued, another question pops up: to preserve or to demolish?
The reuse of buildings has many advantages, not only environmental and economic, but also social. It also greatly contributes to sustainable development. Recycling and reutilization are becoming increasingly more automatic and natural acts both at the individual and at the collective level.
Reutilization of derelict industrial areas can therefore have a positive impact on the quality of life in the immediate vicinity; it is cheaper and more environmentally friendly than building new buildings. Besides that it also preserves the memory of the past. In proximity to many industrial areas (or factories, mines etc.) emerged a number of villages where people (communities) employed in these establishments lived.
Renovation of buildings has a positive impact also from the standpoint of transportation, conservation of energy and raw materials, as the facilities are already there, so there is no need for large amounts of new construction materials. In some cases the costs of reinforcement, refurbishment and revitalization are estimated to be lower than the costs of demolition. In such cases experts involved should inquire about the meaning of these buildings to local space and society.
In the (so-called developed) world the revitalization of abandoned industrial complexes often contributes to creating a unique atmosphere for modern living, creativity and work. It is important to understand the potential offered by degraded industrial spaces. With proper evaluation and renovation of such facilities we can contribute to the attractiveness and innovation of the place in which we live. At a time when cities are increasingly competing with each other in competitiveness, attractiveness and innovation they will have to (in order to maintain their advantage) offer also more interesting and unique places/spaces to live and work. Such places/spaces may – with correct evaluation and renewal – also be found in abandoned industrial areas.
Degraded areas: the situation today
In 2011 the Slovenian Environmental Agency registered 194 abandoned and degraded areas in the total – 979 ha, which accounts for a good percentage of all buil-up areas in the country. The records included areas where degradation was caused by industry, military activities, transportation, infrastructure, and mining activities. These areas are therefore the result of the abandonment of activities and devaluation of their functions. Taking into consideration the empty or half-built residential and commercial buildings the percentage of degraded areas compared to built-up areas is in fact even much higher.
Nevertheless, we continue to witness and increase of the volume of built-up areas, which already represents 5.4% of total area (data from 2012). Existing data sources do not allow a precise quantitative evaluation of the process of building, but from the data recorded in the period between 2008 and 2012, it is possible to interpret that the building trend is growing at a rate of 8.9 ha per day.
In dealing with degraded areas, Slovenian Environmental Agency sets goals such as reducing the extent of such areas, reconstruction of the environmentally most problematic sites and the establishment of comprehensive databases or records, on the basis of which the different departments can successfully take action in the direction of sustainable management and space management.
The list of immovable cultural heritage includes almost 30,000 buildings, and 1,157 of these are categorized also as part of "technological history" (being mostly abandoned industrial facilities). But the entry on this list does not imply that the building is protected as a cultural monument, therefore, it has no legal protection from demolition.
In Slovenia, there are also some positive examples of renovation of industrial heritage, for example. The Coal Mining Museum in Velenje, The Mercury Museum in Idrija, etc. These are mainly museums, only in few cases the renovated industrial buildings are part of people's everyday lives. One good example of such practice is the Old Power Station in Ljubljana.
A good guide to successfully solve the problem of abandoned industrial centers is to determine the key areas and maintain them, while allowing development in a way that permits the people to use them.
Abroad we can find many examples of positive practice of preservation and revitalization of brownfield sites, which have become the new epicentres of activity and development of modern non-industrial sectors. The reason for that may be found in larger quantity of such sites and thus greater need to deal with these problems.
New opportunities: good practice examples
From the architectural point of view dealing with existing abandoned built-up areas is a major challenge. The transformation that occurs with the conversion of an industrial structure into a multifunctional service, tailored to the needs of a contemporary so-called information society, opens up new possibilities of using old, outdated infrastructure in a fresh and innovative way, bringing it closer to the broader plurality of users.
One of the most prominent examples of such a conversion is the old power station in London along the river Thames, the Bankside Power Station. It was built in two phases between the years of 1974 and 1963. The power plant was closed down in 1981. In 2000, the architects Herzog & de Meuron designed its refurbishment into an art gallery called Tate Modern. Once inaccessible to the public, today it now accommodates more than five million visitors per year.
The Van Nelle Tobacco Factory in Rotterdam, built between 1925 and 1931, was in operation until 1998. Its main characteristic is the large glass facade and long glass overpasses. The design was based on the desire for workers to work in a healthy environment (with sunlight and surrounded by nature). The factory is an icon of modernism and after its renovation in 2004 it was preserved almost in its original design. The area of 60,000 m2 is now being used as a "high-tech center for design and communication", which is also home to 50-70 small and medium-sized enterprises.
In 1991 a former industrial area in Duisburg, Germany was transformed and revived into a public park. The main concept of regeneration included the preservation of many existing industrial buildings, accepting them and not rejecting them. The contaminated soil was not removed; instead it was cleaned on-site. Today the park is divided into different areas, divided and connected by paths or water canals. The concrete constructions hide intimate gardens within, the tanks of fuel have become pools for divers; high walls are being used by climbers, the central part of the area as transformed into a square. This landscaping and industrial park was declared a highly successful cultural space.
Another interesting example of regeneration is the former mine Zeche Zollverein 12 in Essen, which was closed in 1986. The program of its revival is cultural in nature and contains, among other things, guided tours of the industrial estate. The area has been designated as the best event venue in Germany.
Opportunities in Koper
The abandonment of industrial activity in the form of old abandoned factories, warehouses and other accompanying facilities left traces in Koper too. Just a stone's throw from the former Motor factory of Sežana (Tovarna motorjev Sežana, TOMOS), beyond the road, there lie several thousand square meters of degraded land and depleted buildings of Invalidske delavnice (INDE), left to ruin ten years ago. This suburban location has great potential and in this case we may thank the crisis in the construction industry that several attempts to auction sale, despite a decrease in price, did not provide a buyer for the INDE complex. We can presume that a new investor would be guided by the desire for profit and the simplest solution is usually to demolish the buildings and build anew. In reality, ideas of preservation are hardly to be expected from a buyer who wants to make profit. If sold for profit, we can easily imagine that this area would host, for example, another shopping center.
From an architectural point of view the degraded site of INDE, which is of relatively recent origin, does not contain any specific design or decorative elements. If these existed, they might enable protection against its demolition, as was the case of the famous Ljubljana slaughterhouse which is nevertheless now surrounded by two supermarkets. However, we can name quite a few sustainable, environmental and societal reasons for maintaining the structures at this degraded area, so it is important to set conditions for the protection of buildings and prepare a protection program in the case of sale.
A glance at the entire load-bearing structure suggests that it is healthy and statically unremarkable. Non-bearing structures: i.e. partitions, wall fillers, carpentry and roof coating would have to be restored or reconstructed as is normal for such facility.
The entire complex INDE has not been maintained for nearly a decade, on the contrary, it was subjected to neglect and vandalism. The intervention which occurred a year ago, can be seen as a an act of conservation and restoration, because parts of the building are in being used and kept again, sanitized, heated, ventilated and maintained, in short, lived by its users. It is correct to say that users increase the value of the building. By this we mean primarily the complex's market value, because the real content value that is developing at INDE is practically invaluable. The town of Koper thus obtained an interference of creative and unique spaces, and thus can compete with large cities that have unique spaces similar to INDE, i.e. Copenhagen, LIsbon, Berlin, or London…
Flegar
---
Inde Plataforma
inde [dot] platforma [at] riseup [dot] net
https://squ.at/r/638
http://www.indeplatforma.org/
Some squats in Slovenia: https://radar.squat.net/en/groups/country/SI/squated/squat
Groups (social center, collective, squat) in Slovenia: https://radar.squat.net/en/groups/country/SI
Events in Slovenia: https://radar.squat.net/en/events/country/SI
---
source: http://www.indeplatforma.org/reutilization-of-abandoned-industrial-buildings-2/