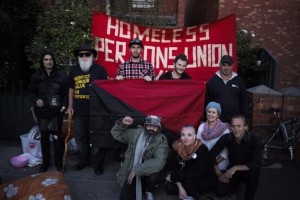 After a long-fought day, protesters have successfully occupied an empty domestic property on Bendigo St this morning.
This is despite being informed late yesterday afternoon, and after weathering a 3-hour holding pattern conducted by Victoria Police officers and an anonymous party of three, that their occupation of 18 Bendigo St, Collingwood, constituted an act of unlawful trespass on private property.
Noble Knight Real Estate spokesman, Travis Sanders, acting on behalf of his unnamed 'client', informed the demonstrators of this, alongside a Senior Sergeant of Victoria Police.
However, earlier in the day, with the assistance of Yarra City Councillor Stephen Jolly, the demonstrators received confirmation, via a title search, that the six empty residential properties they sought ownership and management clarification on still remain in the ownership of the Victorian government.
Noble Knight Real Estate representative Travis Sanders and the Victoria Police Senior Sergeant declined to provide any clarification to the demonstrators on the relationship between the real estate and the government.
On behalf of the 22,000+ homeless Victorians and the 35,000+ people on the public housing waiting list, the demonstrators will continue to demand such clarification.
Six residential properties on Bendigo St remain idle early this morning whilst the Victorian public continues to remain in a bureaucratic murk.
The office of the Minster for Housing, Disability, Ageing, Mental Health and Equality, Martin Foley, was contacted for government clarification but did not return our call nor pay a visit to today's site.
Homeless Persons Union of Victoria
hpuvic [at] gmail [dot] com
http://hpuvic.org/