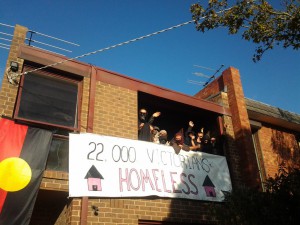 As Melburnians wake to one of the chilliest mornings this year, and a trail of pretty hot-air balloons floats across the city skyline, over 1,000 homeless men, women, children and families have faced a night exposed to the elements or in their cars.
Standing in solidarity, members of the HPUV and homeless community have begun occupying another empty residential property on Bendigo St, Collingwood, overnight. They continue to demand clarification on the ownership and management of six long-term vacant residential properties on this street.
It was revealed to the demonstration late yesterday afternoon that a commercial relationship exists between the state government and Noble Knight Real Estate concerning property numbers 16 and 18 on Bendigo St, Collingwood.
Today the demonstrators once again call on the Andrews government for transparency regarding their relationship with Noble Knight Real Estate as it pertains to any of the empty properties on Bendigo St, and they demand to know why these properties have been left abandoned for over 1 year amidst a homelessness and public housing crisis.
They will continue their campaign until they receive these answers in the name of the 23,000+ homeless Victorians and the 35,000+ Victorians languishing on the public housing waiting list.
The protesters will once again provide a free community breakfast at the site this morning and are encouraging all community members to join them in their demand for clear and accountable government throughout the day.
They will hold a public meeting at the site at 6PM where all those concerned at the government's underhanded treatment of this issue are urged to attend.
Homeless Persons Union of Victoria
hpuvic [at] gmail [dot] com
http://hpuvic.org/