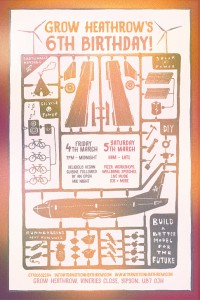 On March 1st 2010, Transition Heathrow members swooped on an abandoned market garden site in Sipson; one of the villages to be completely tarmacked to make way for a third runway at Heathrow.
6 years later, and Grow Heathrow is still here.
This weekend we're celebrating this hub of social activity and resistance against Heathrow's 3rd runway, and the hundreds of you who have made this happen over 6 years.
Come and celebrate with us!
Friday 4th March
3 – 5pm: The Beauty is in the Struggle: Come along to the Sipson mural. Add your hand prints to the many celebrating the beauty that lies in the struggle of Sipson Village. Outside the Zayani restaurant UB7 0HU.
Open Mic Night: Join us in the evening for vegan cuisine and music. Bring your instruments!
************************
Saturday 5th March
A day of talks, cakes, singing, dancing and workshops from 11:00.
Strawbale House
11 – 1pm: Generative creative writing workshop with Aimee
1 – 2pm: Automatic drawing workshop with Andy
2 – 3pm: Laughter Yoga with Paul
3 – 5pm: The inspirational KMT Freedom Teacher, artist and co-founder of the May Project Gardens is joining us to deliver a 2 hour Hip-Hop Garden workshop.
Alternative Space
2 – 3pm: "Heathrow and the Prostitute State" by Donnachadh McCarthy. How Britain's democracy has been bought by corporate lobbyists and the 1%.
3 – 5pm: Interactive panel discussion linking global north and global south activism, with speakers focusing on fracking, mining, aviation, and other struggles.
Office
2 – 3:30 pm: Internet Security: Resisting the Panopticon, with Simon
3:30 – 5 pm: Join Matt for a workshop on What is Class Struggle?
In the Open
Home is where the Art is: Get creative throughout the day with HARTS.
Cob Oven pizzas.
2pm – Herbal Medicine workshop: making mineral root vinegar – from Doc Root, horseradish, burdock, dandelion and anything else we find!
5 – 6:30pm: Cake judging competition and SPEECHES! Start Baking!
Dusk: Join Robin Grey and Naomi Wilkins from 'Three Acres and a Cow' for an informal SINGERS' CIRCLE, drawing on a people's history of land rights, enclosures, loss and homecoming. Bring songs to share, sing, or come and listen.
Music
The late night line-up includes KMT with friends, a return of The Lagan and DJs.
*****************
Sunday 6th March
Noon: Trees for Transformation – Come and help plant trees around the Heathrow villages. Meet at 12pm at Grow Heathrow to get tools and go to the sites.
1:30pm – Octopus Alchemy will be hosting a workshop which brings together radical politics and sauerkraut. Bring a jar or two!
*****************************
Bring a sleeping bag, head torch and tent if you're staying overnight. There is limited guest accommodation, but plenty of space for pitching tents.
Come down this week to help us prepare. There will be places to stay, good food and company and skills learnt in return.
This link has details on how to get here – http://www.transitionheathrow.com/directions/
Our address is Grow Heathrow, Vineries Close, Sipson, West Drayton, UB7 0JH.
Ring for.more info on 07541579798.
NONE OF THE ABOVE WILL HAPPEN ON TIME!
source: http://www.transitionheathrow.com/2016/01/4-6th-march-6th-birthday/