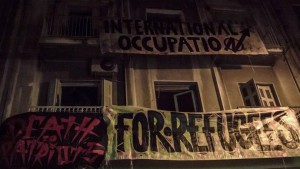 In the evening of Sunday, January 10th 2016, we occupied the empty building on Themistokleous St. 58, in Exarchia, Athens. The intention is to open up a place where migrants who are blocked here in Greece, because of the European migration policies, can live and self-organize free from state control. We are a group of individuals from different places and of different contexts, connected through the fight against States, nations, borders, lager, prisons, capitalism; eventually against every part of this rotten system of domination that oppresses us. We are open to anyone who agrees with our basic principles and wants to participate in the project without a hidden political agenda.
This squat isn't meant to be a public service. We aren't "volunteers" and we don't see migrants as victims. One of the challenges of this project will be to overcome in practice the separation imposed on us by borders and citizenship. This house seeks to become a place where people organize themselves and learn from one another mutually, regardless of their origins.
This is an act against the system and the migration policies. It is not our intention to assist the humanitarian aid provided by the State. The integrated and/or assimilated, non-critical humanitarian aid is in fact helping the State to focus on repressive measures in order to persecute and control migration. We strongly refuse to cooperate not only with the State and political parties, but also with NGOs and other organizations or formations that do so (officially or unofficially). All of these scumbags take advantage of the situation of migrants either to profit, protect their interests, gain political power, or to build a social profile.
The control of migration is a tool in the hands of those in power. Right now the Greek State uses the situation of migrants stranded here to put pressure during negotiations for better conditions enabling the implementation of the third memorandum. At the same time, European States regulate migrant flows according their need for cheap labor force, and the rest of migrants are murdered (in land and maritime borders and the streets of European cities), incarcerated or deported. The European Union upgrades its repressive border policies and negotiates deals with States at the inner and outer European borders to continue and intensify the war against migration by more effective means. Those in power hope to secure their property and privileges from those who are being exploited by the capitalist system and suffer their wars. Private and public corporations try to make as much profit of this situation as possible. NGOs represent the interests of their employers, mainly the State, and are well paid for their job.
Because of property rights, people are sleeping in the streets while thousands of houses remain empty. There are enough goods for everyone. We just have to take what we need ourselves.
We declare our solidarity and support to all forms of action that attack borders, nations, prisons, the critical infrastructure that reproduce the existent, and all those who directly or indirectly defend the status quo!
No racism
No sexism
No homophobia
No discrimination
No exploitation
No oppression
No hierarchy
No authority
No patriotism
NOT welcome are:
Journalists/media
Politicians
Cops
All organizations that cooperate with the State
We welcome people willing to self-organize, regardless if they have papers or not, and regardless if they have a refugee status or not. Priority in housing is given to those who have no chance to stay somewhere else.
We call people in solidarity to support the squat outside of the building. Soon enough we will announce the date and time for the administrative assembly of the project.
Translation in Greek, Italian, German, Portuguese.
Contra Info https://en-contrainfo.espiv.net/2016/01/10/athens-new-squat-in-themistokleous-st-58-in-exarchia/
Athens: Update from Themistokleous 58 squat in Exarchia
At about 10pm on January 10th 2016, a few hours after we occupied the empty building on Themistokleous 58 St. in Exarchia, a guy appeared outside the premises who claimed to represent 'ANASKEVI M EPE' and said that the building belongs to this real estate company.
What he pretty much told us is that, if we don't evict ourselves from the building until tomorrow, he will call the cops.
We make clear that we do not acknowledge private property, and we have no intention of leaving the squat.
We call for continued presence of people in solidarity, inside and outside the building, to defend the project by all available means.
Themistokleous 58 squat
---
Squats in Greece: https://radar.squat.net/en/groups/country/GR/squated/squat
Groups in Greece: https://radar.squat.net/en/groups/country/GR
Events in Greece: https://radar.squat.net/en/events/country/GR
---
Translation in Greek.
https://en-contrainfo.espiv.net/2016/01/10/athens-update-from-themistokleous-58-squat-in-exarchia/