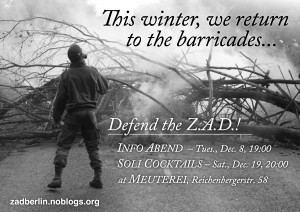 Against the airport and its world, defend the Z.A.D.
The Z.A.D. (Zone À Défendre) in Notre-Dame-des-Landes is a zone of 2000 hectares of fields and forests in the French province of Brittany which is being threatened with destruction by the construction of a new international airport. The redundant project — the region already has a fully-functioning airport — will cost the French taxpayer over 550 million € and lead to the destruction of healthy wetlands and historical farms. Since 2005 the zone has been occupied by dozens of individuals who have fought to defend the autonomous structures they've built on the land, which is now inhabited by some additional 200-300 people from a variety of backgrounds. These occupants are experimenting with new ways of living and organizing outside the confines of the law, the capitalist economy, and the state apparatus. As with struggles here in Germany — such as the anti-nuclear struggle in Wendland or the anti-coal mining struggle in the Hambacher Forest– the struggle at the ZAD is important because of the strategy it employs, namely the blocking of the infrastructure of the capitalist economy while simultaneously building an archipelago of communes that refuse the market fundamentalism of our "alternative-less" capitalist world. More than 200 committees and thousands of associations, organizations, and individuals across France and Europe support the struggle. Despite that, the government has recently confirmed its plans to evict the occupiers of the zone as soon as possible. Join the fight, defend the ZAD and other struggles against capitalist infrastructure. All power to the communes!
Join the fight!
More info: Berlin ZAD Support http://zadberlin.noblogs.org/
Zone A Défendre http://zad.nadir.org
Coming events:
Info night – Tues., Dec. 8, 19:00
We'll talk about the history of the occupation, the struggle against repression as well as about the diffusion of the movement in France and abroad and similar struggles against capitalists infrastructures in Germany. With a film, photos, speakers and translations in French, English and Deutsch.
Soli Cocktails – Sat., Dec. 19, 20:00
Both at Meuterei, Reichenbergerstr. 58, Berlin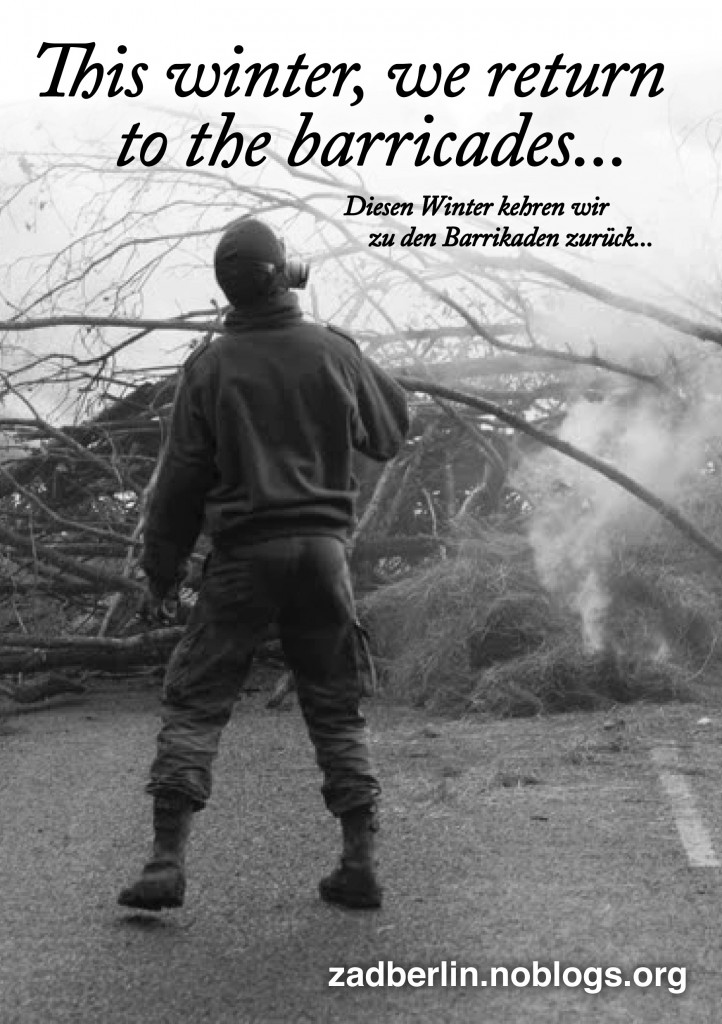 Berlin ZAD Support
zadberlin [at] riseup [dot] net
http://zadberlin.noblogs.org/