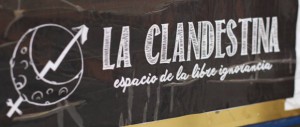 Barcelona, March 2015
Today in Catalunya, social centers and hospitals are closing, universities deny access to students unable to pay and districts are bought and sold for tourism.
Today in Catalunya, this project has been brought to life as a clear rejection of these practices and as a place to discuss, learn, share and act against an unjust reality.
« In this context, we choose to continue digging as clandestine ants, working in community to set the path of civil disobedience. » – la clandestina squat
La Clandestina is an Okupa created in a building owned by the SAREB, a place that has been empty and unused for too long. In July 2014, a group of people decided to enter and start rehabilitating this place. Doing so, they stand up against speculation.
This 14th of March, La Clandestina celebrates six months of occupation. Concerts, workshops and vegan meal; a nice opportunity to start telling a bit of its history.
Rehabilitation
When they entered in July 2014, the building had been abandoned for 7 years. The roof was leaking and humidity started contaminating the houses around.
For 3 months, 10 persons from various collectives have been cleaning, isolating, painting… Investing time, money and energy to fix up the rotten building.
« When we entered, the building was in very bad shape, in several rooms plants and molds had gowned. In the gym the situation was worse and every time it rained, the whole place was flooded. Some walls were falling down and most of the roof was rotten. We started to clean up the clogged gutters and fix-up the roof as we could but in some places we had to tear it down and redo it with cement so that water would not come in. To sanitize the walls we used cal (oxide de calcium)which was the less expensive material and the most effective.
It was 3 months of really hard work, we had no time to go to the beach and enjoy the summer but we didn't care. It was a great human experience and we were super motivated. As money comes in with the activities we make, we will keep on working and find sustainable solutions for the building so that the place gets better and better. » – Interview with an occupant
Un Espacio Autogestionado
La Clandestina is a sociocultural project based on self-management. No one is « manager », no one is being « managed » but everyone believes and insures its collective capacity to exist and function without leader.
Like in many okupas, projects and community rules are discussed in assemblies. The space is open to anyone willing to offer activities that benefit the community inside and outside its walls. That is why so many neighbors, supporters and collectives use the space to create artistic, intellectual and activist events.
From concerts to debates, from crafts to study room, from informatics to Yoga, from film screenings to free-shop, they do re-create social cohesion, new forms of common living and public awareness on various issues.
Un Espacio de Libre Ignorancia
La Clandestina is defined as a Space of Free Ignorance. It means that participation in the okupa's projects is an act of rejecting the concept of accumulated knowledge so long maintained by elites.
It is an act of de-learning and re-learning, an act of questioning who traditionally detains the knowledge and who is being deprived of it.
« No teacher, no students, just people in the process of learning »
Practically the space is a place of exchange. No one will fix your bike for you, but you'll be taught in practical terms how to do it yourself. Once you know, you'll be able to teach someone else.
This dynamic aims to reposition the social encounter at the very base of the learning process. It is also the reason why La Clandestina is such a versatile place, so many different activities are taking place in this space, always with the same idea: you are a part of what you enjoy and you can contributes to its sustainability.
« No es que queramos vivir aquí, que también, es que queremos vivir así. » (Is not just that we want to live here, it is also that we want to live like this.) – Solidarias clandestinas
Oficina de okupacion
How to enter in your house when you forgot your key?
La oficina de Okupacion was created in 2004 when lots of Occupied Social Center (CSO) felt the need to organize, gather and transmit acknowledgments, tips and questions about occupation. Every Tuesday, you can meet their volunteers in La Clandestina.
This office is a technical supports for anyone involved or interested in the practice of occupying. Nowadays, the office's work is mainly focused on legal advice. By collectivizing the knowledge and experiences of squatters, the office intends to promote autonomy and independence from experts when building legal defense.
La oficina de okupacion also collects experiences of occupation in rural and urban areas, provides technical advice such as: how to connect to electricity, water and start the rehabilitation of the space.
Recently, they also published a fanzine gathering remarks and tips on how to do a sustainable occupation.
Resistance
The building used by La Clandestina ELI is the propriety of the Sareb, a state institution created in 2012 in order to "clean" and manage the toxic assets created and owned by the Spanish banks.
Just like in the US, Spanish financial private sector kept on allowing credits to people with really low ability of paying them back. Nonetheless, the banks kept, as a guarantee, the houses and proprieties of their clients (mainly unfinished buildings and undeveloped proprieties) 1. When the bubble exploded in 2008, lots of European and American banks were left with large amount of real estate that had almost no value.
In Spain, the trick they found to sanitize the banks balance sheets was to pass all of those risky assets to a state created institution: the Sareb. Today, lots of those unwanted buildings are occupied in Barcelona. Unfortunately, there is no place in the capitalist system for social, creative and collective re-appropriation of those useless buildings.
As I am writing this article, The Sareb is willing to prosecute La Clandestina. The trial will be held the 4th of May. To support La Clandestina, visit the campaign webpage.
We want you to be clear to institutions, to SAREB , the judges and lawyers (…) that the property that belonged to SAREB was empty , gray, sad, abandoned (…) The current space- full of love, color, daily activities , debates , alternative- is now called La Clandestina . It belongs to all those who use it and benefit from it, to all those who do not believe in institutional politics, to those who every day make this space bigger and stronger.
Get in touch
Like any CSO (occupied cultural center) of Barcelona and its region, the activities held in la Clandestina are published on info.usurpa
Source: http://www.99media.org/la-clandestina-six-months-of-okupation/
La Clandestina
Pasatge Dos Maig, 14-16, 08041, Barcelona
eliclandestina [at] riseup [dot] net
https://laclandestina.squat.net/