London's venues are dying a grisly death. There are high-speed rails to build and cultural institutions to be redeveloped into luxury flats that nobody's going to live in, and it's the city's nightlife that's been selected to pay the price. Madam Jojo's, The Joiners Arms, The Intrepid Fox and Vibe Bar – among a raft of others – have all already been forced to serve their last pints and shut up shop.
Last week, after an 18-month battle with the Crossrail project, the The 12 Bar Club on Soho's Denmark Street closed down, too. The venue has been moved to a new location in Islington, so at least it's still alive in one sense. But the story is the same here as it was when the Southbank Centre suggested moving the nearby 40-year-old skatepark from the "undercroft" to another spot just down the river; the Tin Pan Alley location was steeped in a history that's a little harder to relocate.
On Tuesday, a group of protesters calling themselves The Bohemians started squatting the Grade II listed building, both in a bid to save it from demolition and to inspire others to unite to save Soho. After reading their manifesto – "Without culture, society cannot exist" – I walked in for a chat.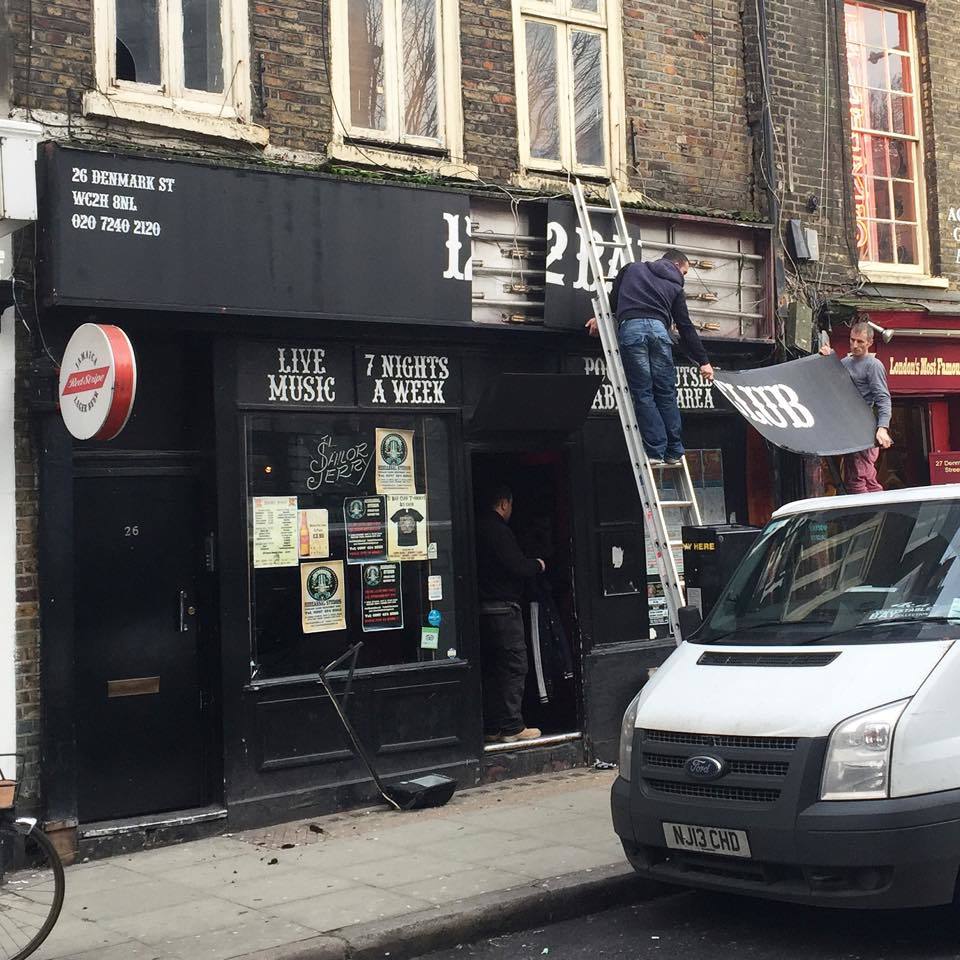 VICE: Hi. So what are you guys trying to achieve?
Thomas: We've been squatting for a long time for different causes, but the reason we're here now is because we heard that Soho is struggling, much like other parts of London. We're here to unite the forces. The main reason is because we're trying to save Tin Pan Alley. This is part of history, legend and culture, and we will try to save it as much as we can.
Why did you feel it was a job for you guys specifically?
Mordecai: The right of squatting is an opportunity to occupy somewhere and use it wisely. We try to use it effectively. We could hold this building and force them to change their decision to demolish it. It would mean that the whole street would be safer from development. The best part of an occupation is when we start it and the local people get behind us for the cause. This isn't a place for us to just live; I live in my own squat and it's much warmer than this [laughs].
Thomas: We've had a lot of experience and can get people together.
Are you expecting more people?
Yes, we're doing this properly. It's similar to a proper political campaign: we're using social media and engaging with many different types of people, from sex workers to the E15 Mothers, through social workers, squatters and activists. It's beneficial for everyone, because people will have somewhere to sleep, and together we can save Tin Pan Alley.
Have you spoken to the police yet?
Yes. Yesterday, we spoke to the builders and we gave them a section 6 [a document outlining squatters' rights), and the police as well. We haven't done any criminal damage when getting into the building. We've been peaceful.
What about the landlord?
We tried to tell him we were on the same side. This is a part of history and we can't just let it go. This began in 1911. It became The Forge, then, in 1994, it became The 12 Bar. They're just not listening to people – it's an ego thing. If they can do this to the city centre then they will do it everywhere. We want to appeal to activists, musicians, performers – anyone who can jump in to help. We're hosting an open mic here on Friday; everyone is welcome. We can share ideas and play some music.
Are you staying here indefinitely?
We'd like to set up a social centre, or teach people how they can use the space in a positive way.
Mordecai: Even if you buy a cultural heritage building, you can't just demolish it; you have to wait until something or someone – maybe some workers – make it unsafe, then they can demolish it and build their palace. This [workers intentionally damaging a building] is, of course, totally illegal, but it happens. If squatters are in the building, then hopefully it can stay longer.
Thomas: This is one of the cards they can play, but fortunately we're not that stupid.
Mordecai: This is a key place. With gentrification, if they can take this they can take anything, really.
Thomas: We arrived yesterday and we're going to continue with the campaign for as long as it needs. We'll be giving out leaflets to people and in shops, inviting more people down to support and busk.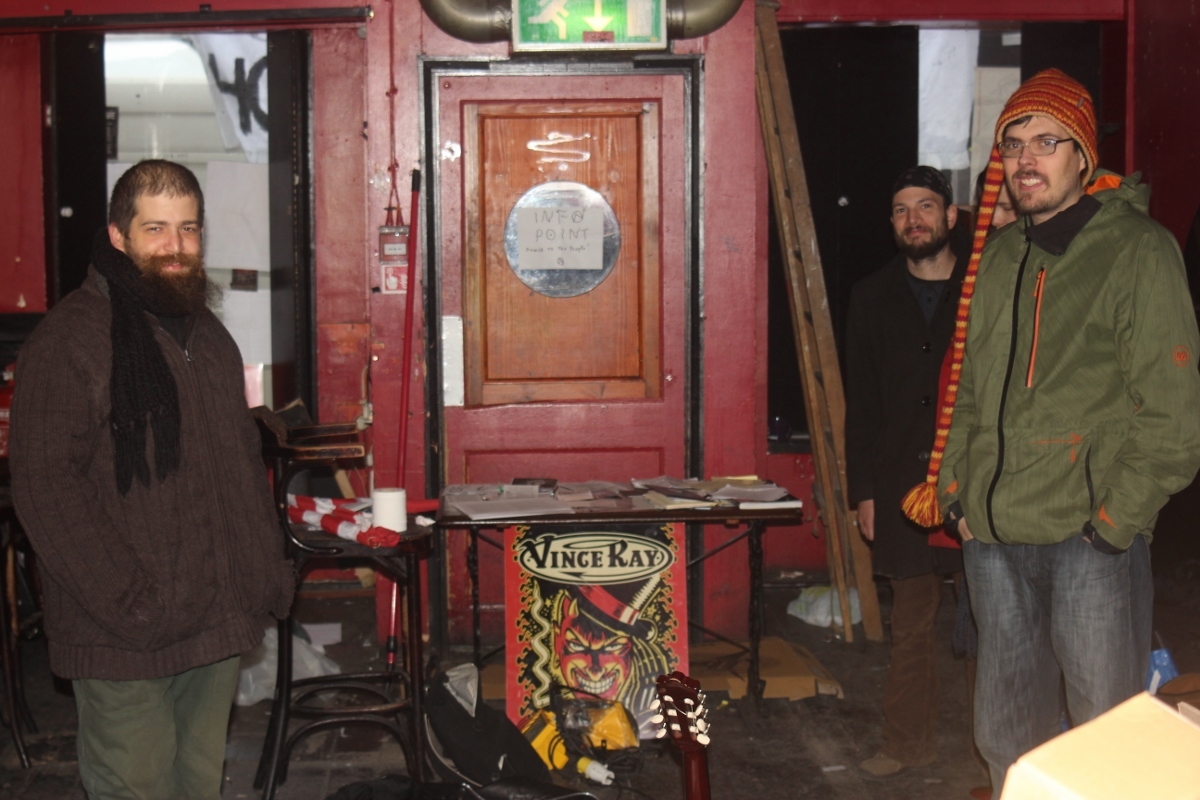 And considering you haven't broken into the building, but entered lawfully, there's nothing the police can do, right?
Thomas: Yes, there is – the police can support us! With the E15 Mothers, we saw big support from communities including the police.
Mordecai: When the police realise it's a political occupation and not some crack house, they often note it down and wish us luck.
Thomas: We've had as much support and attention from the community in the two days we've been here as we normally get in a month. It's been great.
Dan: Most of the time we do these things in support of people who might not have it in them to take the first step. It's not in our culture as Brits to do this sort of thing. In Europe, they're on it, trying to protect themselves and their livelihoods. How many people in this country know that we only got the NHS through campaigns and direct action? People fought hard for this. Things that we prize today – things the government are in the process of stripping back – were all won through protesting, taking action and uniting as communities.
What's your ultimate aim?
Dan: We're here to remind people that they don't just have to accept things. It's about time that we drew a line in the sand and said no. If, when our time here is done, there are more signatures on that petition, a stronger sense of community cohesion over this, and people taking action, that's our job done.
Thanks, guys.
The Bohemians are also behind the March for Homes, a protest in London on the 31st of January against unaffordable housing and in protection of council housing.
Source – Vice Magazine
See more – Our Bohemia