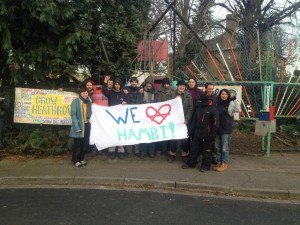 Responding to a recent call out, Grow Heathrow sent wishes of solidarity to Hambacher Forest on Thursday.
Hambacher Forest is a camp comprising four occupations in the Rhineland of Germany, which is protesting against the expansion of one of the largest opencast brown coal mines. The mine is a disaster, not only in terms of the impact on the climate from this dirty fossil fuel, but also for the local residents of the nearby villages that would be destroyed to make way for the mine's expansion. In addition the natural ecosystem would be totally devastated.
In recent weeks activists in Hambacher Forest have been carrying out a number of actions against the felling of this ancient forest. There have been a number of arrests and one of the tree-occupations was evicted at the beginning of December.
You can find more information about the occupation and the recent actions at Hambacher Forest's website.
Grow Heathrow wishes to show support for the continued struggles in Hambacher.
Love and Solidarity
source: http://www.transitionheathrow.com/2014/12/grow-heathrow-shows-solidarity-with-hambacher-forest-in-germany/