A group of housing campaigners and local residents occupied a four-flat block on a largely empty east end estate yesterday in protest over the sell-off of council housing to private developers while former tenants are priced out of the city.
The action on Stratford's Carpenters Estate marked the anniversary of local campaign group E15Focus Mothers being set-up to fight for the right to stay in the borough after Newham Council proposed housing the group of single mums outside of London. They had previously being living in a hostel that was to be closed by the housing association that ran it.
The estate itself has lain largely empty since the Labour council moved residents out after it was earmarked for regeneration. However, the expected buyer, the University of London, pulled out after a high profile campaign by students and tenants in 2012 leaving hundreds of homes empty and unused.
The temporary occupation followed a day of family fun and festivities on the estate square, which backs on to the site of the Olympics, including a tug of war between residents and people wearing facemasks of politicians blamed for the crisis. On this occasion the residents won.
The party atmosphere at the community event was in stark contrast to the boarded up houses that looked down upon it. However, amid a drum roll and loud cheers a ribbon was cut to announce the opening of a four-flat block.
The campaigners said they will clean up and reuse the space to hold workshops to highlight the plight of those being left behind by the government's ideologically driven policies including austerity and to educate one-another on how to fight back.
Jasmine, a member of the E15Focus group, said: "We wanted to make people aware that while we were being evicted from our hostel perfectly good homes have been boarded up for no good reason other than to write them off to be demolished so they can build luxury apartments.
She said the council should be bringing empty social housing back into use and building more rather than expensive apartments that few can afford.
The young mum also demanded the Mayor of Newham, Robin Wales, stopped sending residents out of London or putting them into private rented accommodation. She said: "You only get a six-month contract, so you can't get settled, which you need to if you've got children, and it's largely unaffordable anyway so you end up living in a tiny box."
Jasmine said they would be knocking on doors around the estate to let people know what's going on and to encourage them to get involved. "We're opening up a social centre and inviting people to get involved. We want this to be open to everyone."
And in a call out to people struggling in silence, she said: "We need more people to stand up and campaign. A lot of people don't believe in themselves and are too scared to do anything about [their problems]. But people need to get together and show they are not weak and are not going to give up without a fight otherwise a generation is going to be forced out of London and only the rich will be left."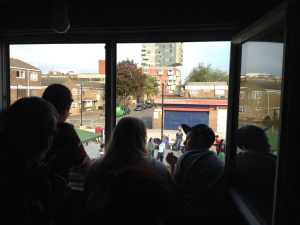 The event and occupation was and is being supported by a number of groups including private renters groups from Hackney and Tower Hamlets and the tax avoidance campaign group UKUncut.
Sarah Kwei, who lives in Stratford and campaigns with UKUncut, said the group had worked with E15Focus Mothers previously to highlight the incredulity of government claims that it can't afford to build social housing while letting Vodafone off of a £6bn in tax bill in 2010 (which it denied).
She said: "I got involved with housing issues because my mum has been hit by the bedroom tax and it's been touch-and-go as to whether she will be evicted as a result of her rent arrears and benefit cuts, so the E15Focus campaign is really close to my heart."
Sarah said it was great that people who don't normally get involved in activism are standing up for themselves and fighting back and hoped more would do the same.
Source: http://glennmcmahon470.wordpress.com/2014/09/22/1049/
Video & report from the day: http://www.katebelgrave.com/2014/09/video-pics-and-report-from-today-focuse15-mothers-reopen-boarded-up-flats-on-the-carpenters-estate/
Guardian Comment Is Free article: http://www.theguardian.com/commentisfree/2014/sep/23/real-politics-empty-london-housing-estate
Vice article: http://www.vice.com/en_uk/read/some-young-mothers-have-occupied-some-flats-to-protest-homelessness-912
E15 Open House Occupation Activity Timetable
All events are public and everyone is welcome!
Today and every day FREE SHOP (donations welcome)
Today 23/09/14
6pm til late Barbecue
7pm UCL vs Carpenters: stories from a victory (Talk)
7.30pm Viva Venezuela! Fighting for Socialism (Film)
9pm Tower Hamlets Renters – Get to Know Us
Wednesday 24/09/14
6-7pm Josie Long (Stand-up comedy performance) Also Nat Melcarfe (Stand-up comedy)
7pm Post performance open forum
7pm UK Uncut (Open meeting)
Thursday 25/09/14
2-5pm Basic plumbing course
7pm Students Assembly (Queen Mary branch, all welcome)
Time TBC (Evening) NHS Direct Action – Banner making workshop
Friday 26/09/14
Daytime TBC
Evening TBC
Saturday 27/09/14
3.30pm Debt Workshop with Fuel Poverty Action – Bring your bills and get help on how to manage and write off debt
Evening TBC
Sunday 28/09/14
Daytime TBC
Evening TBC
Source: https://www.facebook.com/pages/Focus-E15-Mothers/