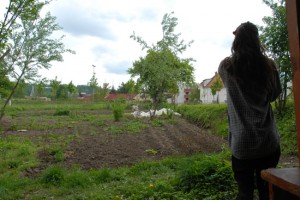 Zadruga Urbana (Urban Cooperative in English) embodies the idea of an urban-agrarian platform that aims to connect collectives and individuals in order to improve self-sufficiency through direct action. It is based on shared principles of horizontality, autonomy and self-organization. Our vision is to bring together individuals and collectives regardless of previous experience, in a non-hierarchical way, to promote autonomy in local food production and freer access to public land.
We are not satisfied with the current system of food production and therefore try to raise people's awareness of options for producing their own food, consuming locally and being autonomous – all through collective gardening. Our venture enables individuals with no land of their own to produce food. It gives them a better overview of some of the possible ways to self-organize, coupled with sensitivity for their local environment. Furthermore we believe it is necessary for a collective movement to take that process into their own hands. Through our discussions and practices we address issues such as (de)institutionalization of gardening, taking back the land or traps of green capitalism. We are proposing some principles of conduct that can help us go beyond norms forced upon us from official structures. The main question of Zadruga Urbana is how to fight the given frames of living, working and organizing, as individuals but especially as an informal group of people in the field of gardening and self-sufficiency.
In fact we are a small group trying to establish alternative practices through direct action: we squat/collectivize abandoned land in the city, we share knowledge, tools, veggies and seeds, we organize solidarity actions, public kitchens, we try to maintain a seed library, exchange/free donation markets with food, we screen documentaries. We always find something new to keep us busy. Regular lectures and talks on a range of topics such as permaculture and the institutionalization of gardening are the cornerstone of our activity. With produced food we also support benefits, public kitchens and open spaces around the city and are willing to share thoughts and experiences on the topic of claiming our right to the city. All of our events are free of charge for attendees. We do not do this regularly or by a certain schedule but as often as time permits.
Recently we have joined another initiative for a communal garden in the centre of Ljubljana for which the idea was brought up by two collectives and it is slowly becoming "more than just a garden". Through sharing the space and through collective work people politicize themselves and that is what gives us motivation to keep on doing the most simple and basic thing we do best – gardening. It is accessible to everyone, especially with squatted land, it is a enjoyable pastime activity that can be (and for sure in our case also is) seen in a broader political context.
Everyone is welcome to participate in our gardens and network, to learn and share skills of producing our own food. The only thing we ask for is sharing some basic principles such as anticapitalism, antichauvinism, antifascism. Let's take back the land!
Collective of Zadruga Urbana
zadruga [dot] urbana [at] riseup [dot] net
https://squ.at/r/637
https://zadrugaurbana.wordpress.com/
---
Some squats in Slovenia: https://radar.squat.net/en/groups/country/SI/squated/squat
Groups (social center, collective, squat) in Slovenia: https://radar.squat.net/en/groups/country/SI
Events in Slovenia: https://radar.squat.net/en/events/country/SI
---