The NewsRound is be a monthly post, keeping tabs on articles being posted in MainStream Media (MSM) sources, as well as independent channels (eg IMC, SchNEWS) about squatting, the new law (s.144) and possible new legislation (eg commercial). If you spot any articles of interest, please let us know by emailing: info AT squashcampaign DOT org. Disclaimer: All views expressed in this blog are that of the compiler and not necessarily that of SQUASH.

The Parliamentary Death Star Returns
It seems the plague of parliamentarians and ministers are back from their holidays in Tuscany, the Algarve and the Med on some rich Russian's super-yacht; and with Parliament open again for business, it's open season for attacking the poor, homeless and marginalised once again. So while the economy is in the shit, austerity bites, and neo-fascism on the rise, the Labour Party have chosen a new direction, a new target to win votes: yes, you guessed it, "blame the squatters"!
Our evil nemesis, the "Londonov" Evening Standard printed a story about a letter sent to the ding-bat Secretary of State for Justice Chris Grayling (this time looking like a paedo in jail) from shadow(y) business secretary Chuka Umunna, former Labour minister Dame Tessa Jowell and Lib Peck, leader of Lambeth council: "Make squatting in commercial property a crime, ministers told" [Evening Standard, 10 September]
(The original letter sent to the Secretary of State for Justice from Lib, Chuka and Tessa can be found here [dated: 2nd September 2013])
These shady characters provide just the sort of "evidence" Mr Grayling is looking to change his position from "monitoring the situation closely" to "rabid squat hate", citing two examples in Lambeth (111 Westminster Bridge Road, and Patmos Lodge). While both examples claim that the eviction cost developers substantial sums (unsubstantiated, the heart bleeds), the dodgy politicians claim violent attacks and assaults in the Westminster Bridge case (reprinted with glee by ES). At this time, SQUASH believe that these stories are untruthfully presented and costs overinflated, and we will be investigating these cases to see if there is any substance to them; if you have any more information on these stories, please contact us ASAP.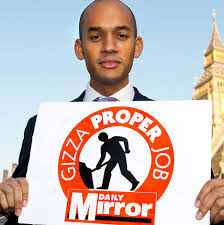 SQUASH has attempted to contact Chuka to get a direct response; however all we got was this, which an informed critic described as "a pile of crap": "Squatting: My View" . Meanwhile SQUASH have hit back at this opening salvo with an open letter to the three little pigs asking for an explanation. This letter has already gained the support of Kate Hoey, John Mcdonnell and Owen Jones who have all supported it on twitter. Owen Jones has written a brilliant piece in the Independent exposing absolutely both Labour and the Tories as equally reprehensible, spineless scum as they pick on the most vulnerable to win cheap political points; to paraphrase a classic quote from Jones' book Chavs : "We're all Tory-twats now."
"Labour's plan to eject squatters won't fix Britain's broken housing system" [The Independent, 15 September 2013]
Meanwhile, Tory lapdogs, like Philip Davies (MP for Shipley), have been "asking questions" in Parliament to keep the issue of squatting on the agenda, to which the minister replied that they were "monitoring the situation" ('scuse me sir, could we have some of that data please, from SQUASH).
Exit Mike Weatherley, whose done his job, having criminalised squatting in residential premises through nefarious means; Vice – "the hipsters bible" – has exposed a shocking story in which Weatherley publically stated his support for the 491 Gallery (a squatted space in Leytonstone), claiming it was a great example of a vibrant community centre: "The Anti-Squatting Tory MP Who – Weirdly – Seems to Love Squatters" [Simon Childs in Vice]. The story covers much of the events of the last year since squatting was criminalised, obviously using much of the archived material provided by SQUASH; but do we get a mention? No fucking chance! Like most sniveling journos, Childs does a few interviews, rips our materials without any credit to the hard-working groups who have been defending squatting, and then gives Weatherley a gentle telling-off (awww!). C for effort, F for execution. Even though Vice seems to be covering a few squatting stories of late (eg Eviction at Rushcroft Road), it's efforts are unconvincing; it's telling a few stories, balancing the brutal truth with whimsical statements, unangered and neutralising. Maybe this is because Vice is now just another consumer product churned out by a global media conglomerate for hipsters worldwide; the Dirty Digger and his neo-liberal posse recently took up a tasty little stake in Vice, a sign that playing at being "rebellious" pays dividends: "Rupert Murdoch firm dips into hipsters' bible with $70m stake in Vice" [Guardian, 17 August 2013]
Orange Alert: Be on your guard; it looks like the Machinations of Power have started up once more, and it looks like squatting in commercial premises is in its sights. SQUASH are expecting a full assault from the grovelling politicians and their media masters to start any day now.
"Made Possible By Squatting" Exhibition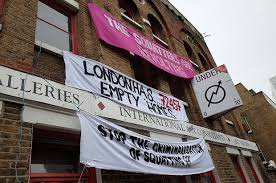 All we can say is "amazing work" from the Made Possible By Squatting crew; if you missed the exhibition which ended on the 16th September, you missed out. The derelict commercial building in the nowhere place that is Shadwell/ Tower Bridge, was occupied for the exhibition, a stunning old warehouse with beautiful wooden floors, squat sign over the estate agent's placard, banners fluttering from the roof, exhibits on all three floors and hundreds of little cards hung from the ceiling telling tales of squats gone by, a proud history of fighting for homes after the First World War (the ex-veteran Vigilantes), fighting fascism before the Second World War (Cowley and crew), fighting Thatcher's repressive CJA during the 1980's/1990's, of social centres come and gone, historic buildings occupied then demolished, and so on. The exhibits (both the commissioned and archival) were visually stunning, clever, humourous and hard-hitting, covering a broad range of media (books, posters, leaflets, photos, paintings, objects, sounds, etc) and the pieces lovingly curated in a beautifully-bare space. The closing night was a feast of entertainment, food, drink and excellent company; vegan curry wraps were served up with homebrew and cocktails (a la "punch de bailiff") from the BARicade, while volunteers read a documentary-play written about the squatted Grovenor Road in 1973 , a trapeze act performed on the third floor, Pete the Temp read poetry, Jez sang mentalist songs and all the while the throng of visitors exchanged stories, caught up and feasted for next to nothing. It was a true squatter's ball, but sadly the reviewer had to dash, missing the later acts. A hearty "well done" to all those who tirelessly gathered and displayed the exhibits, occupied the building, hosted the week and evening, and pulled-off an unmissable exhibition. Judging by the success of the event, this is probably just the beginning….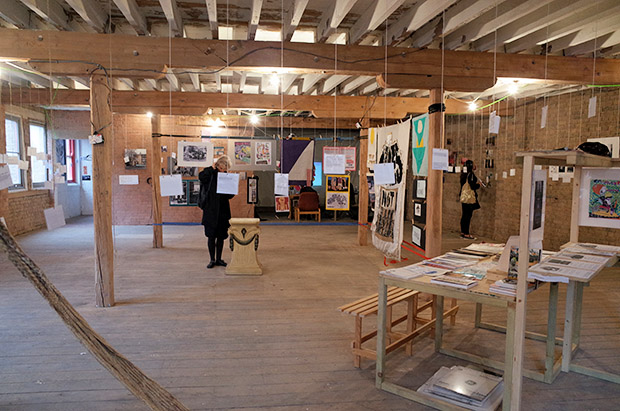 While the "Made Possible By Squatting" exhibition seems to have been mostly ignored by the mainstream media (a small clip on BBC London), Urban 75 have done a brilliant photo-article and Arizona Smith wrote a nice review on the Guardian blog: "Squatting: outlawed but more relevant than ever" [Guardian News Blog; 10 September 2013]; also check the furious debate which follows the blog piece, no doubt heavily infiltrated by Tory-Labour trolls spouting their narrow-minded filth.
[Thanks to Urban 75 for the photos]
Remember, Remember the 5th of October
Two bits of information that, although not directly squat-related, are both useful, important and pertinent going forward:
Legal Aid Mass Civil Disobedience
Much like s144 LASPO and the Secret Courts Bill, the Coalition Government is both determined and able to introduce extreme, harsh and unjust legislation without any attention to due process or democratic accountability. Now they're at it again with the Legal Aid Bill which will in effect criminalise the right to protest and ensure that only the wealthy ever get a fair trial in British courts. Therefore UK Uncut, DPAC, Defend the Right to protest, Women Against Rape, Plane Stupid, Kent Refugee Help and BARAC UK are getting together to challenge this with mass civil disobedience on the 5th October, just about the only way people will get their voices heard. For more info, how you can help and what's happening, check the Plane Stupid blog: http://planestupid.com/blogs/2013/09/2/plane-stupid-support-uk-uncut-legal-aid-protest
"Using research to expose dodgy dealing" Training
With the likes of Weatherley taking had-outs from property developers to the Police/ Ministry of Justice/ Evening Standard making up the "truth", exposing the cynical lies of those determined to criminalise squatting by hook or by crook (certainly not by any transparent process) is crucial. Jubilee Debt Campaign are hosting a free training workshop on Saturday 5 October on how to research dodgy companies and government corruption, with experienced researchers talking about how they conducted the research to expose corrupt companies, reveal unjust tax deals, and shed a light on injustice. The session will learn techniques such as Freedom of Information requests, how to investigate company accounts, work out complex webs of ownership, online research tips and the use of National Archives. For more information and to register, click here.

Source