ACTIVE RESISTANCE CAMP IN DEFENSE OF THE LAND
AGAINST THE M.A.T. AND THE WORLD WHICH NEEDS IT

WHAT IS THE M.A.T.?
The very high tension line (M.A.T.) is an electric motorway which
transports at least 400,000 volts. It is being constructed in order to
connect European States to each other and also Europe with Africa. It is
necessary in order to sell and distribute excess energy produced by
nuclear power plants and the so-called alternative sources of energy.
At the same time, it is the network which capitalism needs in order to
supply the electricity necessary for other projects and infrastructures
of death and destruction, such as high-speed railway lines. Those
responsible for all this are always the same ones and the construction
companies in question are directly involved in other projects which are
destroying lands around the world; companies like Vinci standing out in
Europe and Endesa in South America.
WHY THIS CAMP?
So that the last decisive section for the connection between France and
Catalonia can not be constructed. So that the energy coming from 6
French nuclear power plants does not cross this land or any other. So as
to treat the struggle against the M.A.T. as a starting point for
questioning our way of living, which is mainly imposed by the domination
of Progress. So as to create on the affected land a space for meeting,
information, agitation and action.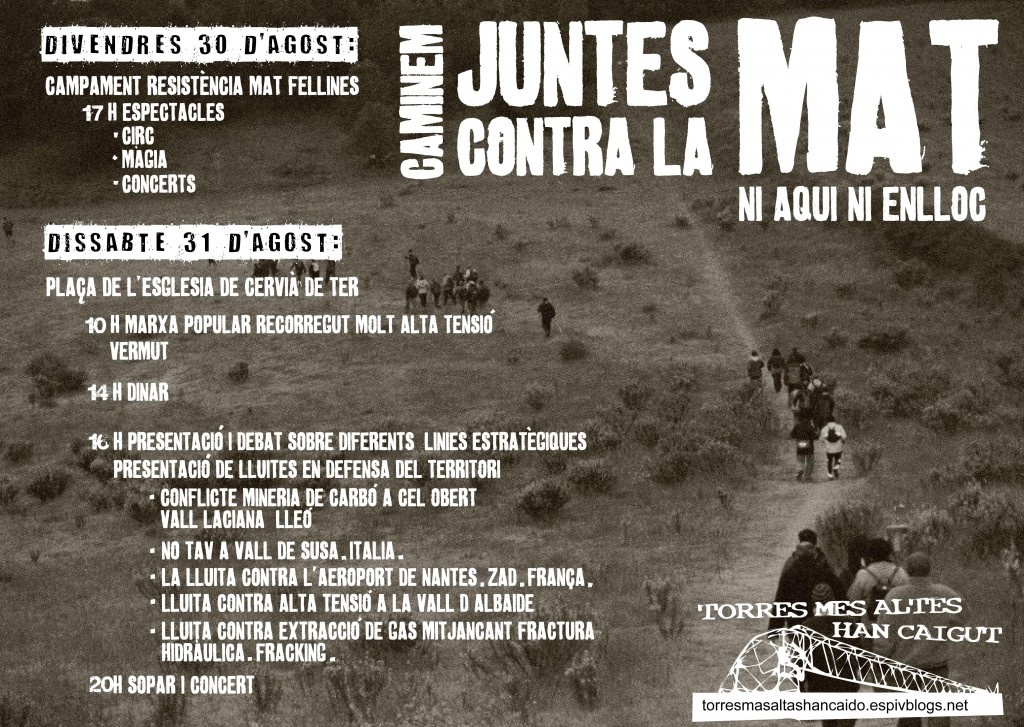 WHY HERE AND WHY NOW?
After more than 10 years of struggle, we are at a decisive moment. In
September expropriations are expected to begin, directed against owners
who have refused to sign the sale of land needed for the construction of
the M.A.T.'s last pylons in Girona.
It is because of all of this that we are inviting you to participate
actively in the camp, in order to share, struggle and resist in a
self-run space, without leaders and representatives. We want to create
moments of exchange and connection between various struggles, because
the M.A.T. affects us all and is not an isolated struggle.
AGAINST PROGRESS, ITS INFRASTRUCTURES AND ITS DEFENDERS:
LET'S TAKE OUR LIVES BACK!
SEE YOU ON THE 23rd OF AUGUST, 2013
ON THE LANDS AROUND GIRONA
Bring everything that you need for camping. More information and
updates:
http://torresmasaltashancaido.espivblogs.net/