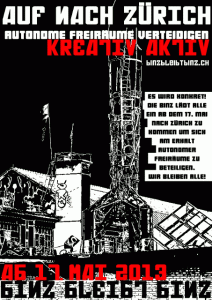 After May 31st the Binz squat is in threat of eviction. The Canton Zurich wants to tear down the former factory buildings as soon as possible and pass over the property to 'Stiftung Abendrot' by spring 2014.
AGAINST DEMOLITION IN ADVANCE
The beginning of the construction is planned for October 2014 and the project for the construction from 'Stiftung Abendrot' is still in planning.
That's why:
We want to and we have to defend and preserve every alternative living space.
Call for creative resistence against the tearing down of the squatted factory Binz.
We don't wish escalation provoked by Binz.
Come by and rock the BINZ.
We start with Vokü (people's kitchen) on May 17th 20
---
Some squats in Switzerland: https://radar.squat.net/en/groups/country/CH/squated/squat
Groups (social center, collective, squat) in Switzerland: https://radar.squat.net/en/groups/country/CH
Events in Switzerland: https://radar.squat.net/en/events/country/CH
---
Source : https://www.indymedia.nl/node/15171