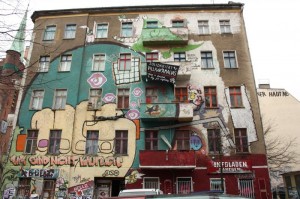 We forward a communiqué related to a spontaneous demonstration in the streets of Kreuzberg, Berlin, and send comradely regards:
On the January 17th a spontaneous demonstration in solidarity with the squats in Athens took place in the streets of Berlin-Kreuzberg.
At 8 pm around 50 people gathered to show their solidarity with Villa  Amalias, Skaramanga and  Lelas Karagianis, walking through the main  street of Kreuzberg.
The demonstration was not registered and most of the comrades were masked. Slogans were spray-painted, an ATM got destroyed, fireworks went off and some stuff was pulled on the street. The demonstrators were shouting "From Berlin to Greece: Fight the police!" and "Cops, Pigs, Murderers" (in Greek). A civil car of the police showed up and got chased off with stones.
The demonstration split up at Oranienplatz and slowly some cars of the riot-police showed up, but couldn't catch anybody.
Even though the demonstration could have been bigger, we were loud, uncontrolled and angry.
With this small action we send comradely salutes to the fighting people in Greece.
Solidarity doesn't know any borders! We will do it again and again!
Further coverage on linksunten.
This demonstration was among actions in support of the threatened and attacked squats in Athens which took part within the last weeks. We'd also like to refer to a spontaneous gathering on January 12th after the attempted re-occupation of Villa Amalias, as well as the solidarity action at the Greek consulate on January 15th.